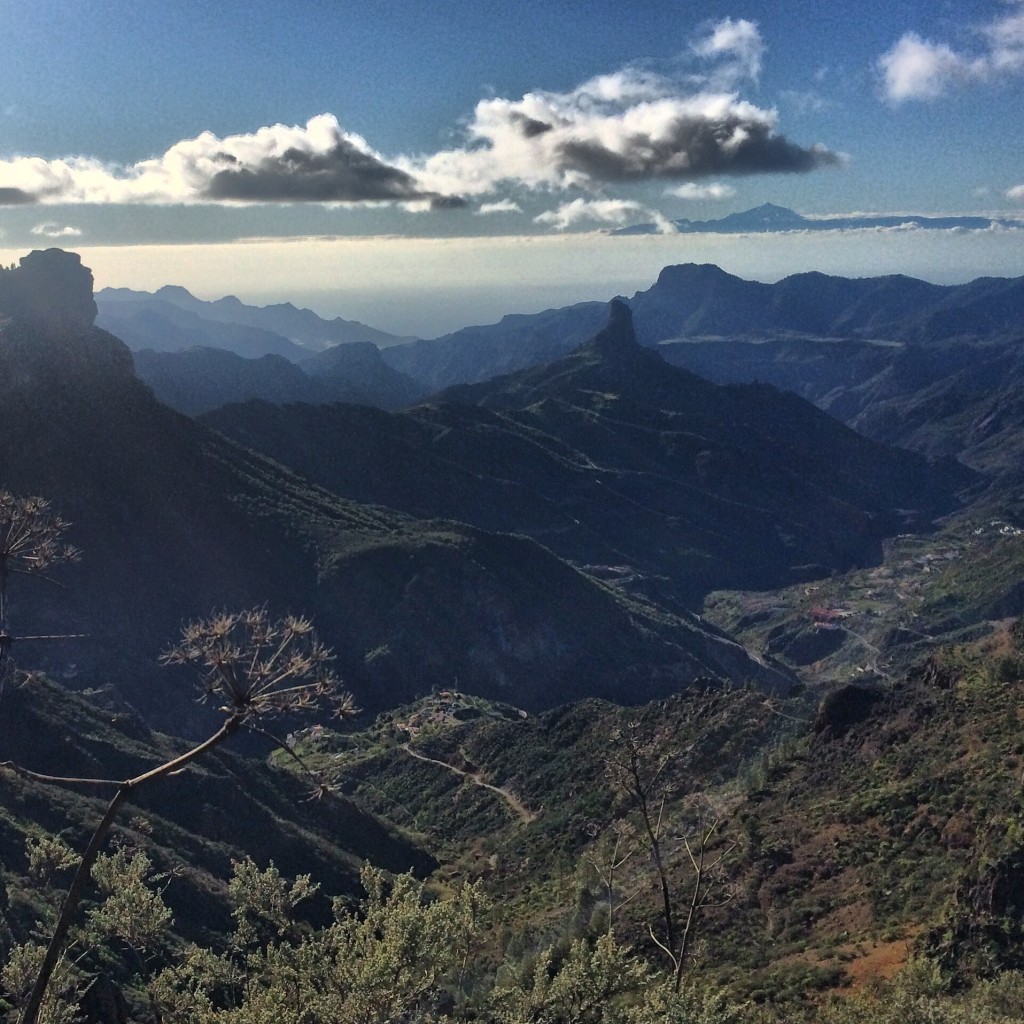 View from a pre-race run from Garanon.
Running is my art and the mountains are my canvas. I feel very passionate about running, I put my blood sweat and tears into it daily; I love to run. Every new day is a beautiful day to be alive and if you decide you want to do something well, you should do it with your whole heart. That is art.
When I run I work hard, I'm creative, I put a different spin on something that has been done a billion times -running, it's in our blood – and I make it my own. I cherish the time I put in, to get out in nature and appreciate; I'm so grateful to be here and experience the organic joy that is playing in nature. Every run is something new and a chance to put my soul into it. I love being wild n free and pushing my body and mind to heights I didn't think possible.
When a race does come, it's the accumulation of hard work and many hours; a celebration of my blood, sweat and tears. But it's not about the end result or the "race". Running is art, and when you put everything into or onto one canvas, sometimes you'll have a masterpiece and some days just an ugly train-wreck. However it happens, that is how it's suppose to be; so I accept it and continue on. I ran as hard as I could on that given day, it wasn't a masterpiece or a train-wreck, it just turned out to be one hell of a time.
The midnight start was misty and rainy. I'd been counting down 10 days on the Island waiting for this moment. I was mentally and physically ready to take on the challenge. Waiting for the countdown I felt calm and focused. Then we were off into the night, a little road running to the trail and then we went up. My goal was to remain focused, using other peoples head torches to light the way. I didn't know how long my batteries would last so I wanted to take advantage of the conga-line as long as possible. I made it an hour before I needed my headlamp; this was a fun way to start the night.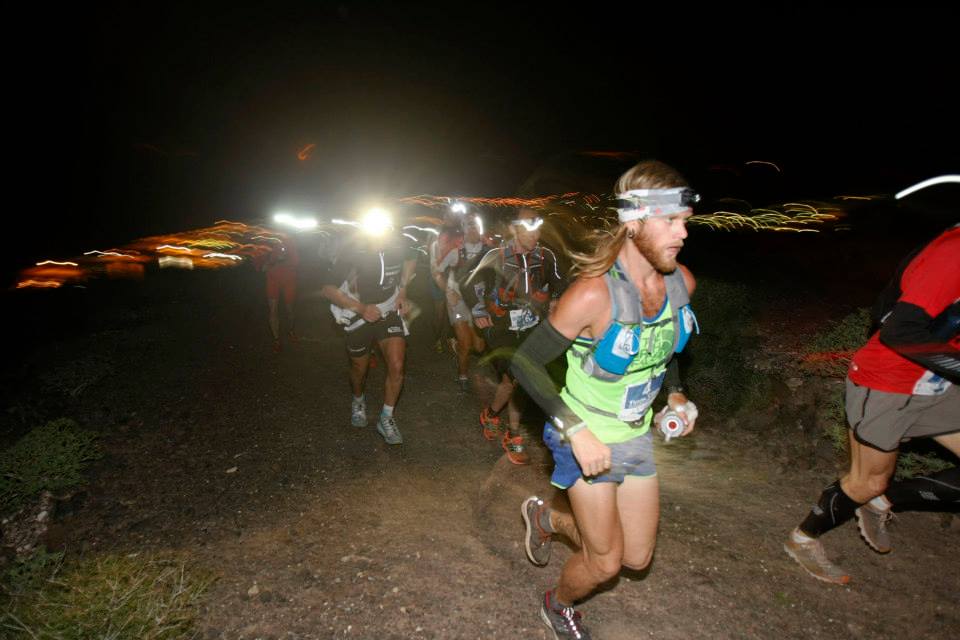 I thought the pace was lagging, so at the top of the climb I gave a little push, not to "go for it" this early but to spread things out a bit and get our lungs working. Julien and another fellow joined me as we hit some single track and eventually came to our first big descent of the day. I was feeling light on my feet after the 5k of vert up and wanted to test my down hill abilities with the gnarly trail ahead. It was a blast! We shot down, dropping over ledges, rocks kicked up and went flying; it was mayhem but it almost seemed rhythmic. Basically the goal was to reach the bottom with your toenails and teeth in tacked. With a final rope section we reached some boulders to hop around, a little single track and we were back in the direction, up!
In the descent we gapped the others a bit; Julien, myself and another moved up the hill with me leading us on a purposeful hike up. I was remembering to stay patient, knowing there was much more to come. I stopped to pee and let Julien take the lead. The paced died down a bit and you could see the stream of headlamps slowly catching up. After some ups and downs, strong gusts of wind and more miles clicked off, we entered a town for Artenara aid station at 35k. Just minutes before the AS my guts were not cooperating and I had to dip over to the bush to relieve myself. I went from 2nd to 6th or so pretty quick. My stomach had not agreed with the food I've been eating the days prior – as hotel food is much different to my regular routine – and was starting to show ugly signs of a long day and a few too many stops. I was only taking in 100 cal an hour thus far of VFuel gels, but decided to have a little coke early on to get in some caffeine to stay up and hopefully settle my tummy while still getting in calories.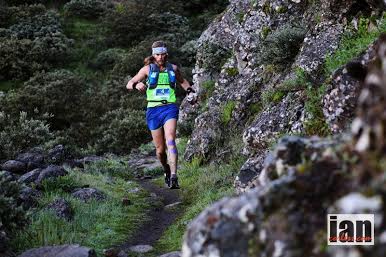 Photo Ian Corless
My stomach was not terribly happy the next 6 hrs or so, but I found a decent balance of gel, coke, auga and electrolytes to keep me moving. I was losing the leaders but I knew if I kept listening to my body I could turn this around. I started to pee blood which made me sort of nervous. I figured it was from all the pounding down hills and I hoped with a continual supply of water, things would clear up. All I could do was take it a little easy and continue to listen to my body. It persisted but I kept peeing, so I continued forth. We weaved through the town as the trail winded through an area of overgrown cactus, up and then down and then up, up up. I ran when I could and hiked some too; the towns were quiet besides the dogs who wanted to say hi and ask about our day.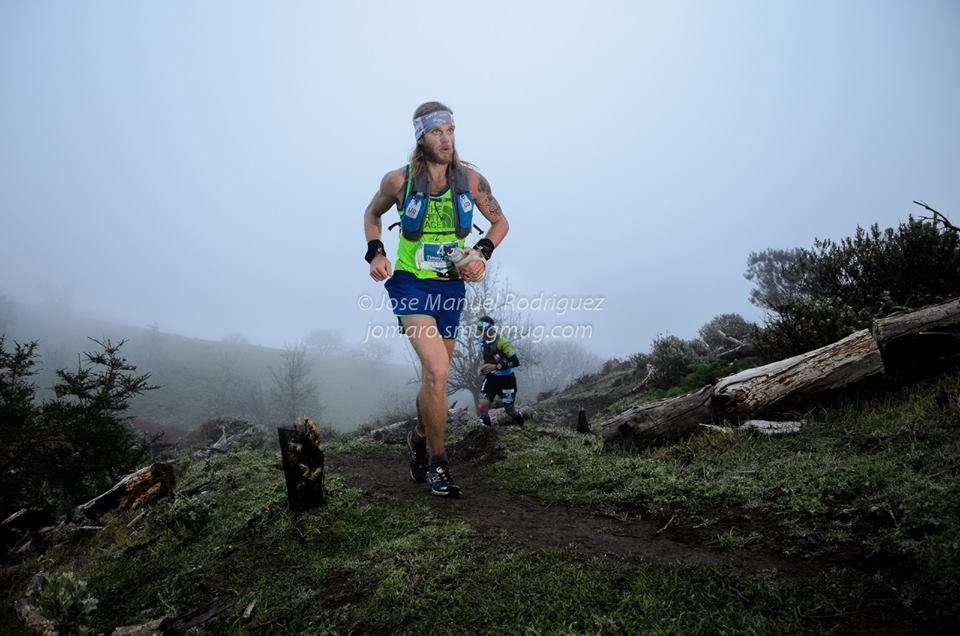 Most of this race was continually just reminding myself to put one foot in front of the other. As easy as that sounds, it's quite difficult. On the other foot, it sure does make the miles tick by. As the night faded and the cloudy sky started to bring forth light, I started to catch glimpses of other runners which invigorated me to keep grunting. I eventually ran past a few runners on some muddy – brand spanking new – single track. The organization must have just put this new patch in; it was muddy, but in steep section had foot steps cut into the side. This was a nice section as the sun started to peek out more n more as I cruised the ridge.
I inched my way up and eventually caught up to Julien, I had no clue what place I was in, but I knew I was doing ok to be rolling with Julien. We smiled and laughed a bit as we got closer both saying, "funny to run into each other again". We probably went back in forth 10 or more times throughout the race. We charged up a hard section together, trying to last through another brutal climb. Going through a beautiful black pine forest the sun danced through the clouds and trees making a excellent place for people to catch us working really hard and to catch a sweet photo.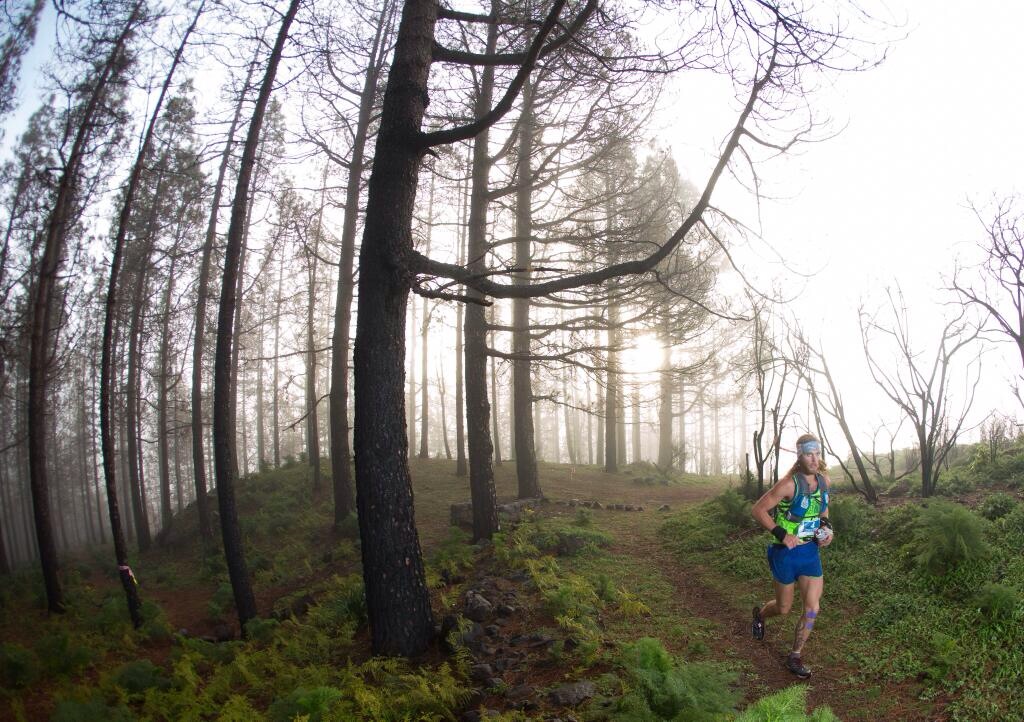 Photo ?
I grunted up this hill strong, riding a small energy wave that I tried to roll with. I passed through Talayon AS (63k) and got word from my amazing crew – Leonardo from TNF – letting me know I was only 3 minutes down from Seb and I would be at another AS in 30 or so minutes to restock my pack. This was great news to me and kept my spirits high. I knew I was also getting close to Garanon where I stayed earlier in the week. I trained up there for a few days and stayed in a nice cabin with no electricity or internet – it was the perfect place to go deep inside myself, meditate, be still and mentally prepare for the race. It was also the only part of the course I knew, it was only a 10k section or so, but I connected with the area nicely and really enjoyed this section.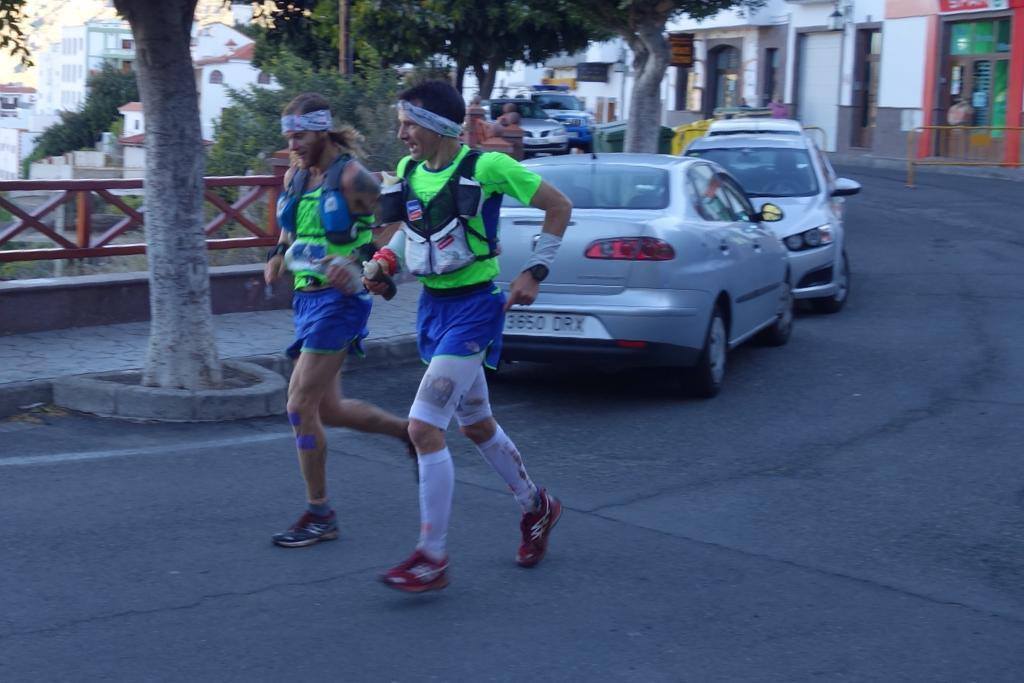 Photo irunfar.com
I buzzed through Cruz de Tejeda and eventually started the technical decent to Tejeda. Knowing the terrain helped a lot and I got down there nice and quick like. To my surprise Seb and Yeray Duran were at the AS and I had finally caught up to the lead! I chatted with them a bit as we kept moving forward.  I knew the next section was brutal, I just didn't know how much. It was good to see the sun coming out, but it got hot really quick making the day even more interesting. I followed them both as we grunted up a really steep climb. I was just maintaining at the time and trying to keep my shit together.
It was a hard hands-on-knees power hike, where I would throw in little burst of running, always keeping them just a few meters up. This was an endless climb to Rouqe Nublo and also the most beautiful part of the course. The views were stunning, but Seb was really cracking up ahead and I was trying to do everything I could to keep him within eye site. The out n back section to the towers laid out for us all how the race was unfolding. I was a minute behind Seb, then Yeray a minute behind me, then all of a sudden Ryan Sandes was a minute behind Yeray and looking strong. I couldn't see him but Juilen must have been only a few minutes back of them. What an incredible race, we were all working so hard, pushing each other, trying to break the others without breaking ourselves.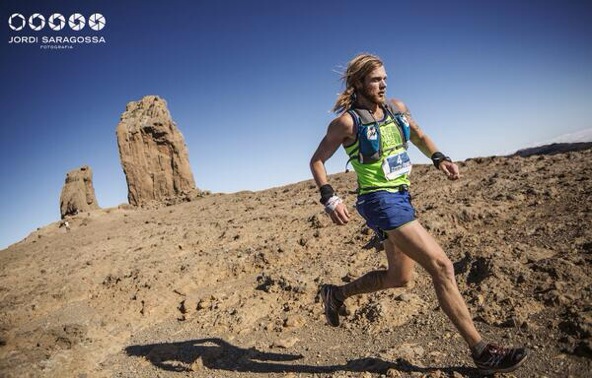 Photo Jordi Saragossa
We entered Garanon with tons of cheers, it was awesome to see how many people were out encouraging us, but I was worked. It took a few minutes getting out of there as I regrouped with Leo and got my pack situated, then the organization went through my pack to check for all the mandatory gear. I'm not a fan of mandatory gear, you should bring what you think you need and it's up to you to bring the right stuff, but I agree it's up to the race and that's their choice. That's all I'll say about that or the silly ordeal after the race with Ryan missing his space blanket on the cause of poor translations, very unnecessary turmoil for everyone involved. I also believe you should talk with the runners before making a press release. Again, enough said, it's in the past.  😉
So after being patted down for my mobile phone I was off and up. They started the marathon distance as Seb and I were leaving, yes, we had to negotiate our way through seemingly thousands of people. It was only a couple hundred, but most of them were in their mindset for their race, going 15 or so wide taking up all the trail and side trails. It was complete chaos. I had to keep saying "paso por favor" a few billion times, everyone was super nice to let us through, but we were exhausted, climbing to the highest point of the day with crowds and crowds of people. Despite being a challenge, it was great running with so many enthusiastically happy runners celebrating all the hard work they've put in and enjoying the trails.
After the killer uphill we started a moderately technical section with plenty of rocks and then down a bunch of uneven cobblestone switchbacks on our way back down. I felt like I was caught in a stampede, I was passing people, people were passing me, people were stopping in the middle of the trail. Seb and I danced around all this trying to focus on the race at hand. It was quite interesting, going from just a few guys hiking a trail to hundreds bombing down, it was both chaotic, unpredictable and fun. This was a great reminder to remain focused no matter what was going on around me.
I made it down to Tunte AS (95k) to many cheers and excitement. Seb and I were right next to each other and both the weather and race were hot! After more and more down hill we reached an AS and a slow rode back up. I was so hot, the sun was baking, but I kept thinking of all the hot and hard days I've been training in the warm-sunny winter of Southern California. The days total climbing of 8500meters and heat were making every part of my body ache, but i needed to push on. I could do this, I thought of my family back home who I hadn't seen for days, I wanted to work hard for them; I wanted to prove to myself that I could battle through this increasingly bad patch that was sinking into my bones. It was all runnable terrain, but I couldn't help little bouts of hiking as my lungs screamed for oxygen.
The grade of the climb increased and we went further up some long switch-backs on a dirt road. I could see Seb and Ryan closing in. Ryan looked fast, damn. He was motoring up the climb as I swayed back n forth just trying to keep upright. I knew he was coming and I was trying to mentally prepare for a hard finish. I didn't want to give up, but my legs were seizing up, I took in a VFuel gel and a salt tab. I tried to keep my mind straight; Ryan passed with authority and flash backs of 2012 Western states were going through my mind. As Ryan progressed forward it seamed as I was inching backwards. I tried running down hill with him to no prevail, he kept slipping away. The pain was increasing; I told myself there was plenty of racing left, so I needed to focus within myself, not worry about the race and let it happen as it must.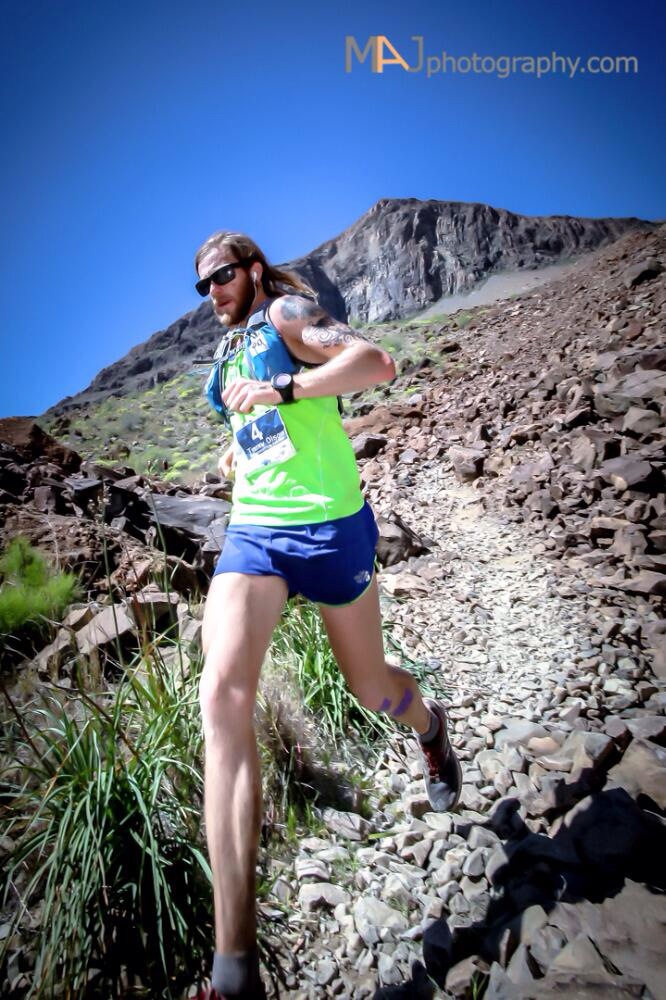 After a hard down where Ryan got away, the road led back up, then to the talus field of hell. I was digging all the technical sections thus far, but this one made me feel thoroughly American. I fumbled around on the loose rock, tying to navigate the rocks and crazy switch backs. My knees were screaming at me; I fell and bust up my hand good, nothing terrible but I was feeling weak. I reached the aid station with people cheering me on to keep chasing; I normally have an extra gear at the end, not this time.
I struggled away from the AS with a little up hill to go and then a gradual 15k to the finish. I was walking way to much; I was trying to talk myself into giving a strong finish, I was embarrassingly slow. Sometimes all you can do is laugh at yourself, so I did. Then Julien passed, I stayed with him as long as I could, but inch by inch he crept away into the distance. After a few miles down the long canal to Meloneras I could tell the finish line was near, I squeezed out everything I had left and finally reached the finish line.
It was a hard and long day, I gave it my all, it wasn't a masterpiece but it was the next best thing. It was a perfect day in the mountains, breathing in fresh air, celebrating life with amazing people and athletes in a beautiful place; all I needed was to see my family and that's exactly what I'm doing now.
The eve before the race I was drinking some Yogi green-tea, each tea packet has a mantra, a phrase to embrace the day, my tea packet said "your greatest strength is love". I couldn't agree more. I train intensely, I prepare for adversity, but at the end of the race when I'm at my lowest low and feel like giving up the only thing that goes through me is love. I have many blessings in my life, I've also have had struggles, but through everything, the love I share with others is the power that pushes me on. Love is my true fuel and in the end, it's what allows me to do seemingly impossible things.
A huge thank you to Ultra Trail World Tour for bringing me to this amazing island of Gran Canaria. And to Transgrancanaria and The North Face for making this all possible, the crew of Celeste and Wendy made my stay wonderful, spending time in both Garanon in the cabins and in the resort of Sheraton Salobre. I had a great experience and I look forward to running this one again. The course was amazing and had everything I love about true mountain running.
Supplies used along the way.