You know you've been living in a good place when it's hard to leave. I came here to race Transvulcania, which was good, but I was also able to enjoy the island for three weeks with my family which is better than any race. La Palma is a magical place and we were blessed to enjoy the islands beauty more thoroughly this year as my family and I lived and explored the island. The people are wonderful – we met new friends, checked out a home in a cave and visited farmers markets in Los Llanos de Aridane, Mazo and Punto Gorda with awesome handmade crafts. We went for many long runs, exploring the diverse micro climates, continually changing from black lava sand beaches, beautiful black pine forest, rocky jagged peaks that you spiral around reaching the islands high point at Roque de Los Muchachos taking in all the surrounding beauty that adds to La Palma's wonder – this place is a running paradise. We say goodbye re-energized and ready to rock n roll over more dope mountains the rest of the spring and summer.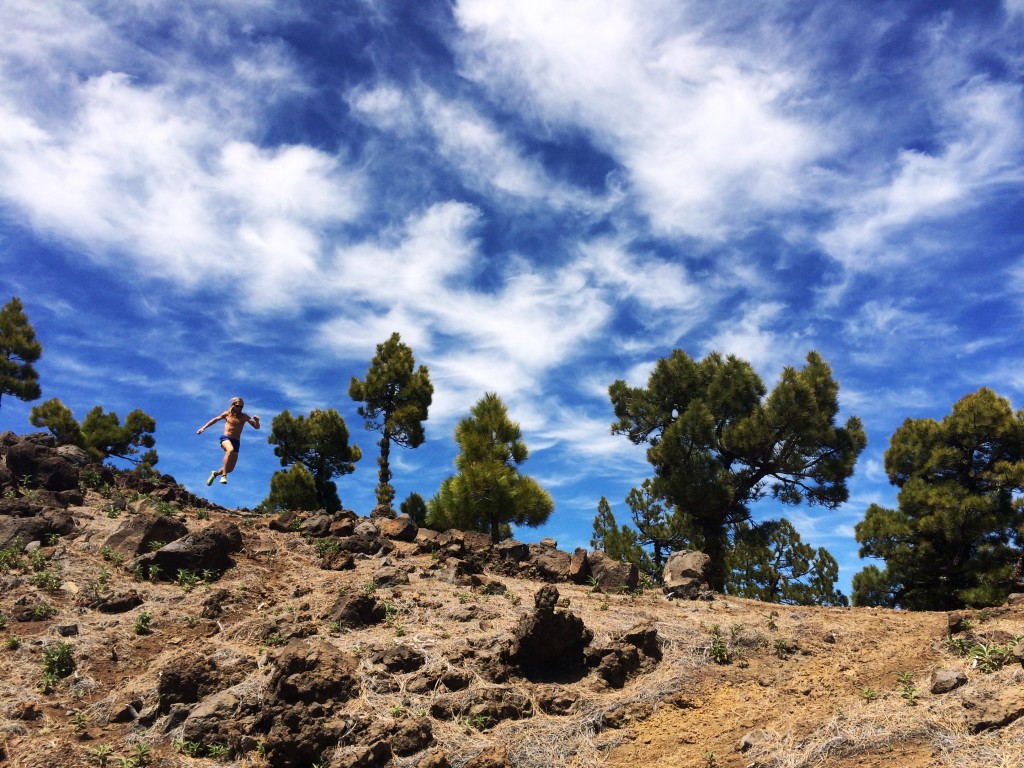 After the always frantic start to a race, we zig-zagged our way away from the glow of the lighthouse up from the ocean and it's crashing waves to the banging of pots, pans and hands as we sprinted through the spirited Los Canarios which was 7k into the race. As the echo of the jubilant town evaporated into the distance, us Transvulcania soldiers carried on, attacking the first massive climb as we skated, slipped and sloshed our feet through the volcanic sand.
To my dismay, early in the race I could tell my legs where flat and my quads burning like I've already ran a 50k. Unfortunate, yes, but as the rainbow of colors burst from the Atlantic Ocean's horizon breaking through the sea of clouds and exploding over the peak of Teide, the tallest of the Canary mountains across the way on the Island of Tenerife, I was in complete running bliss. Who cares how your legs are feeling when you are running in paradise, or at least this is what I kept telling myself through the rough patches of the day. Trying to stay positive even when the figurative and literal shit was hitting the fan early on.
By the time I reached El Pilar the leaders put a gap between us that was pretty much unattainable. This didn't mean I wasn't going to try, but without climbing legs and a few too many pit-stops in the bushes (I ate something that didn't settle right), I was discouraged. I kept marching on while enjoying the views, problem solving along the way, trying to turn the run around. Running this race last year allowed me to know where I was on the course and what to expect, maybe this helped, but I also knew it was a long and rough trail over to Roque de Los Muchachos for here.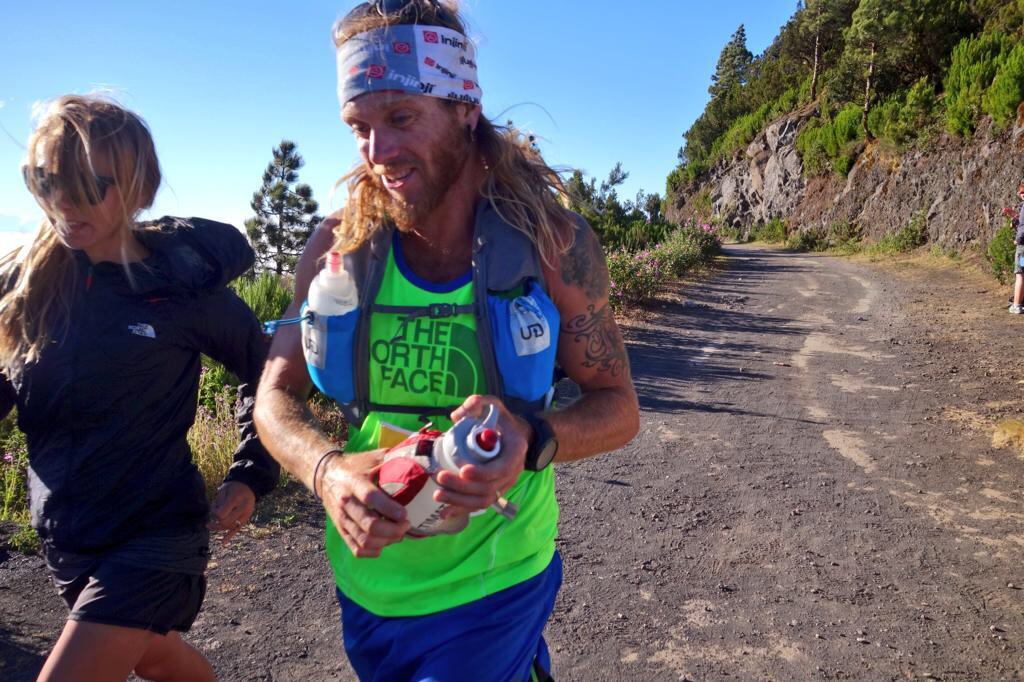 El Revention – Photo : Irunfar.com
Seeing my wife at El Revention (30k) was another welcome site as I dealt with my struggles, she always has a smile and encouraging reminders to keep me playing and having fun; so that's what I did, I put on some tunes, I started to sing and live the day to the utmost. Running above the clouds on a beautiful Island with your loving family cheering you on, it doesn't get any better than that; the gelato and vino after the race with friends and family was damn good too.
As the run progressed, I went back and forth with my good friend Vajin Armstrong from New Zealand, he encouraged me too as we continued to click off kilometers and persue the others. He's a strong runner and running together was helping us to stay around the top 10. All day the views were stunning; I love running this fine ridge line around the massive Caldera de Taburiente. To the east is an epic backdrop of Tenerife surrounded by the sea of clouds; 360 degree views of La Palma surrounded by the healing waters of the ocean and to the west is the howled out caldera with spires and ridges that rippled their way down to the Puerto de Tezacorte where we would eventually end up after 70k of running before the last 1000ft climb to the finish.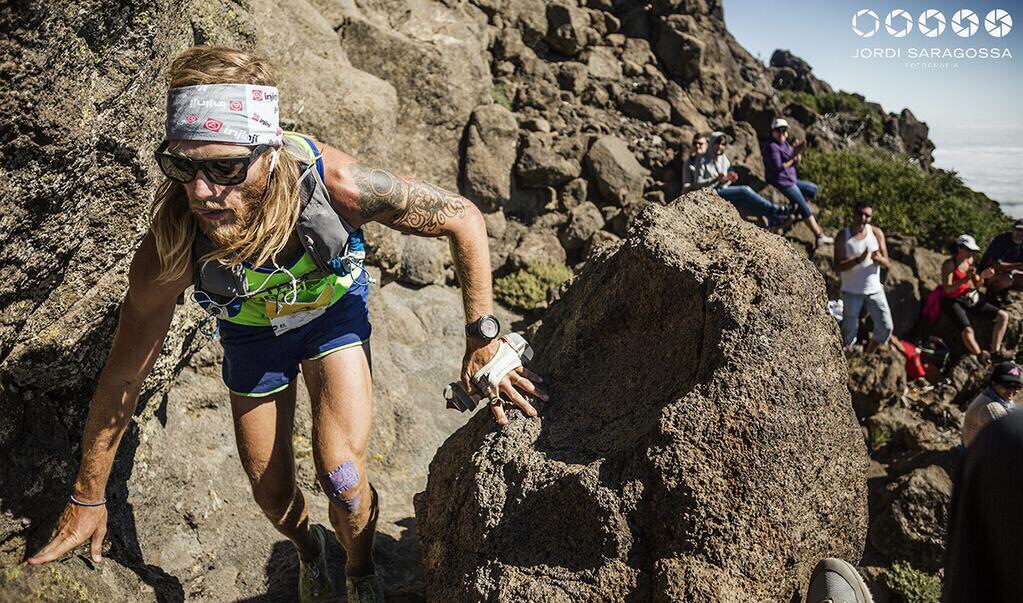 Roque de Los Muchachos. Photo: Jordi Saragossa
If you are not disoriented from the strenuous effort, the views from Refugio Punta de Los Roques, over to Pico de la Nieve (40k) and Pico de La Cruz (45k) are incredible. Not too technical, but still appropriate to be uber aware of your footing as you navigate the winding ups and downs and sharp rocks at every turn. It's a lot of fun when you're not having a pity party for yourself as I definitely partook in for a few moments on the trail. Even though it was not "my day" for the race, I kept reminding myself that I would come out of this stronger. The perseverance to move forward when times are tough makes up the essence of ultra running. Of course this will be hard, of course we'll have doubts, but once we accomplish this journey before us we'll all arrive as champions.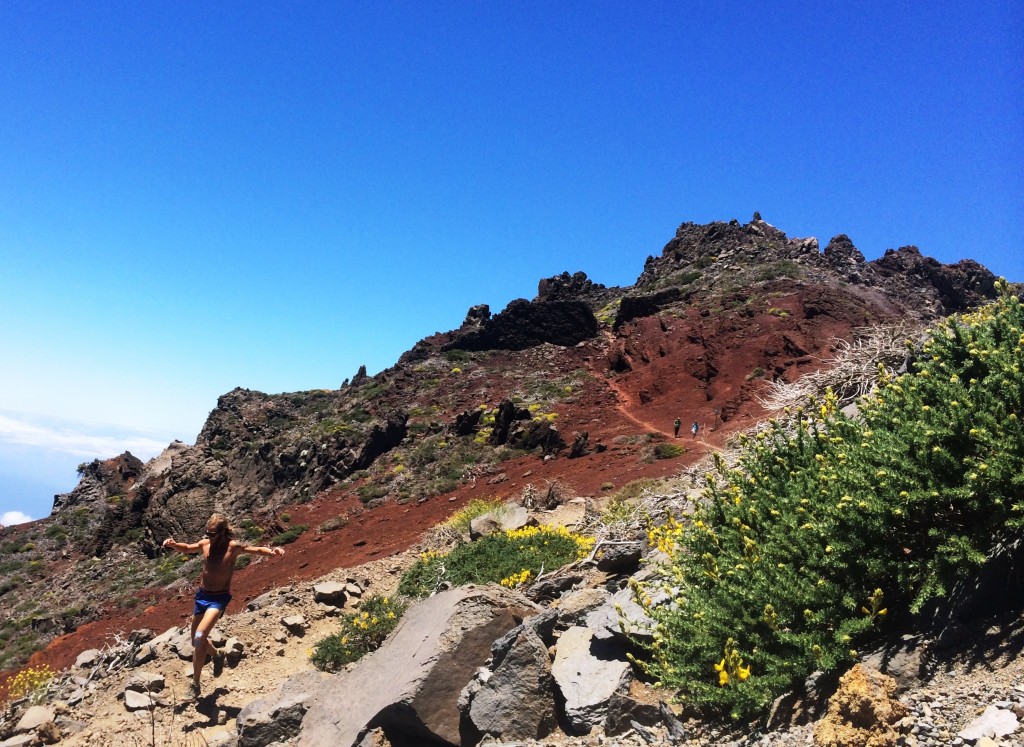 Around Pico de La Cruz my legs finally started to warm up, they had enough hiking and I felt like getting some running in. The crowds lining the way are like magnets drawing you too them with force fuerte. With a renewed sense of strength, I pushed on and mentally prepared myself for the infamous 8200ft drop down from Los Muchachos with its teeth-cracking technical lava-rocks to ease your way. The legs hurt, but I figured I would wrap up the day and get my butt over to Los Llanos.
It was hot and each step added a grimace of pain to my sweaty and dirty face. I caught up to Dakota which was a welcome site to see an American amigo along the trail, I think we were both hoping for a better day, but the good news is we get to share more miles and smiles shortly in the San Juans as we prepare for Hard Rock 100 and enjoy other spectacular mountains – just another day at the office. We encouraged each other on with hopes of wrapping the day up with nothing else bruised besides our egos. Personally I love a good 'ol humbling run to stoke the fire, make me hungry and push me to keep working on my running practice. I learn something new about myself and how my body works on every run, it's exciting to keep learning ways to perfect the craft.
Just a few kilometers after El Time (65k) a few guys passed me and they were moving, my left hamstrings were cramping, but I didn't want to see them go. As we crushed our quads on the steep pavement sections of the course I kept them within site. We approached the techy lava-rock zig-zag path along the jagged cliffs of Puerto Tazacorte. The views are amazing and one wrong move could send you soaring out into the sky free-falling to the ocean, a 1000ft below. Audible hurting on each step I progressed to the bottom to again see my crew, of Krista, Tristan, Debbie and Christina. I sped through, grabbing a fresh supply of auga from Krista and was off.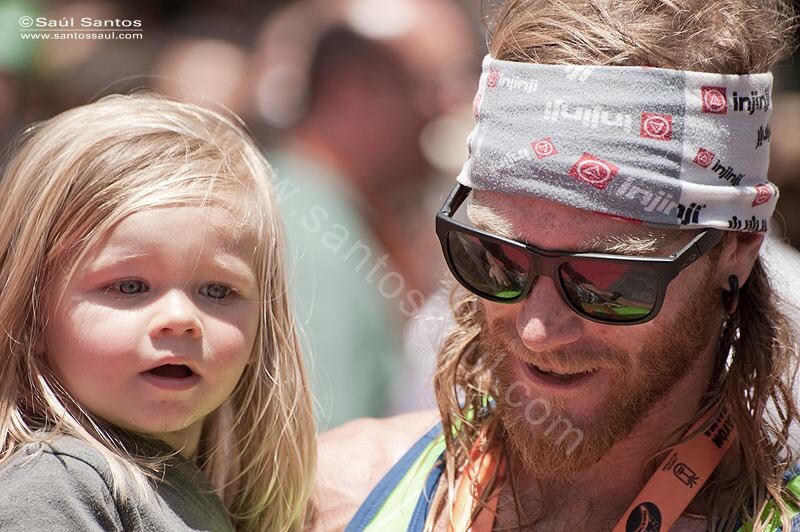 Finish. Photo: Saul Santos 
With the addition of a meandering creek-bed path from last years road section, I staggered my way through this rocky section within a few slow minutes and approached the last big climb before reaching the roars of Los Llanos and the electric finish. On the last switch back before the top I grunted to within meters of Pablo Villa, it was a bit of struggle to catch back up to him, but I figured I would try to finish this race on a strong note. We stayed together for a few meters, but once I put in just a little more effort he disappeared behind me and I was able to enjoy the last few minutes of high-fives and cheers of congratulations down the home-stretch. I found myself in that perfect calm before a finish, tears swell up in your eyes, your body feels light, the pain melts away and all you can do is smile, shake your head and realize you've done it a again, the great Transvulcania, it's a bruit.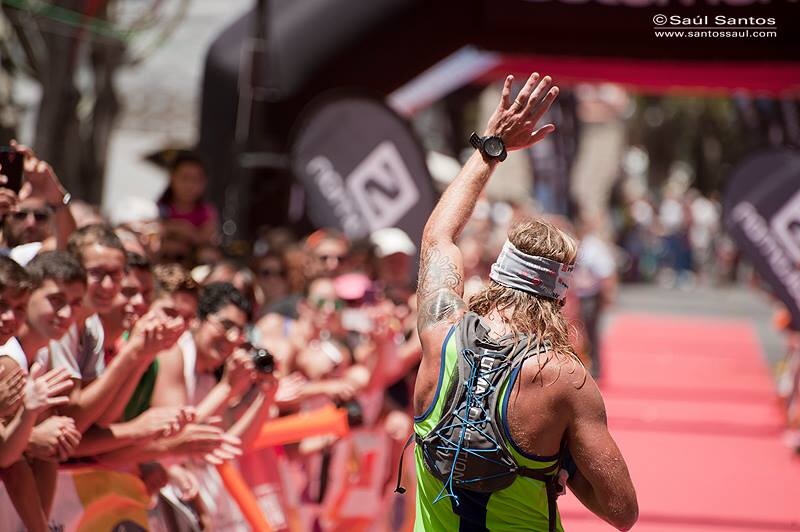 Leaving beautiful La Palma, I'm so grateful for my experience here. Thank you Transvulcania and the whole island of La Palma for such a warm welcome with so much love and smiles from all the lovely people. It's places and races like this that make running and connecting with nature so magical, I look forward to my next Canary Island adventure.
I leave inspired by the people here who have shown me love and the deep energy from the island that restores my mind and body. This truly is a wonderful place.
Un abrazo fuerte,
Timothy
Follow Timmy's board La Palma, Canary Islands, Spain on Pinterest.
Leaving for three weeks can be a challenge to pack everything you need, thanks to my amazing sponsors I am able to have all my necessities with me.
I brought…
2 pairs of The North Face shoes, a modified Ultra-Trail and a new Ultra-Peak which will come out this fall which has a little more cushion. When I came back last year from racing Transvulcania I sat down with the TNF running gurus and helped to develop the ultra-trail, designed to run on rough/technical terrain like Transvulcania, I was very happy with how it handled on all the rocky/lava terrain.
2 Better Than Naked TNF shorts and singlets.
A few pairs and styles of Injinji toesocks to keep my toes happy and blister free.
Supplement capsules from Natura Health Products – Amino-Max, Botanibol, Power-Adapt and Night-Gain to keep my body healthy and strong. I truly believe in these supplements and believe they've helped me stay consistent and healthy with my training the last few years.
EPIC Bars for during training runs and after my race for the perfect high protein/fat meal on the go. These bars are truly amazing and are the perfect traveling accessory. My favorite is Bison-bacon-cranberry but all there bars are amazing as well, like Lamb-mint-currant and Turkey-almond-cranberry. All 100% grass-fed animals from farmers who care about the animals and the land.
PocketFuel Nut Butters for both my breakfast every-morning and during and after the run. This stuff is magic and one of the most delicious things I know. My favorites are the Chocolate and Vanilla Haze (hazelnut butter) and their Blueberry/banana almond butter. It comes in big 20 oz packages for day to day use and also handy single-serve pouches for on the run. Yum yum yum.
VFuel gels for racing and training. During the race I had about 1 an hour, my favorites right now are peach-cobbler, cool-citrus and vanilla. These gels work perfect and each one contains just a bit of MCT oil (medium-chain-triglyceride from coconut oil) to aid me in burning fat as my fuel on the run.
Active Patch 4U for all the little aches and pains that I want to go away, like for the race, I was having a little knee pain, I put one above my knee during the race which increases circulation to help alleviate the pain. I use them more so during training like acupuncture to keep my body balanced.