The nice thing about my brain is that I forget easily. Well Transvulcania has come and gone. I had a rough go at it, but that moment has passed and now I'm focusing on the next race at hand, Lavaredo. Okay, actually I'll just be focusing on my next run, trying to keep improving while enjoying each moment, living the good life, drinking in the smells, sounds, colors and emotions that make running in nature such a joy. That's one thing I don't forget and even in the midst of a challenging race like TV, I think of all the good and remain grateful.
This was my third trip to the beautiful island of La Palma; it's one of my favorite places to come to each year. The island's positive vibrations are always high, everyone there is so friendly and encouraging and it sure feels good to be loved even when I didn't perform like I would have liked to. Even when things were going badly, my main goal was to overcome that funk and still get in a good run around the Island. Yes, some moments were extremely difficult and I wanted to quit, but persevering through adversity is one reason I choose to run these crazy-fun ultra races.
So what happened? Basically I just had another off day. I never felt especially Olympic that morning, but I started the race with the intention to stay strong and positive throughout. Yet, I was a little apprehensive of how my training had worked out but I was excited to test things out and see what the day brought. I ran to El Pilar (26.8k) feeling somewhat confident with my start, remaining in control and ready to strike in the later stages of the race. However, with the quick start and a drink mix that did not settle well ( I should have added more water to it), I became very nauseous. As I passed through El Reventon (34k) I had a few sips of coke, hoping the discomfort would pass. Things continued to unfold uncomfortably as I emptied my guts out on the trail, I was very nauseous for most of the day and still felt pretty uncomfortable that night as well. Maybe I caught a little bug, maybe the pre-race meal didn't settle well, I guess I don't really need to know, sometimes I think people over analyze a bit to much. It was just a hard day, and so it goes.
This was hard to accept, in the moment, being my first race of the year. Even if it didn't unfold into a spectacular race, I was hoping to test out my fitness and start the year out right. I was disappointed that I wasn't able to get in a stronger race, but that feeling has now fled as that run is in the past and I have much to accomplish now. I'm not sure what is right anyway, my race was rubbish and I felt extremely miserable for a good portion of it, but accepting the situation, I was able to move forward and waddle my way to the finish, satisfied with gutting it out and still able to reach the finish to a thundering crowd, enjoying the day, in Los Llanos.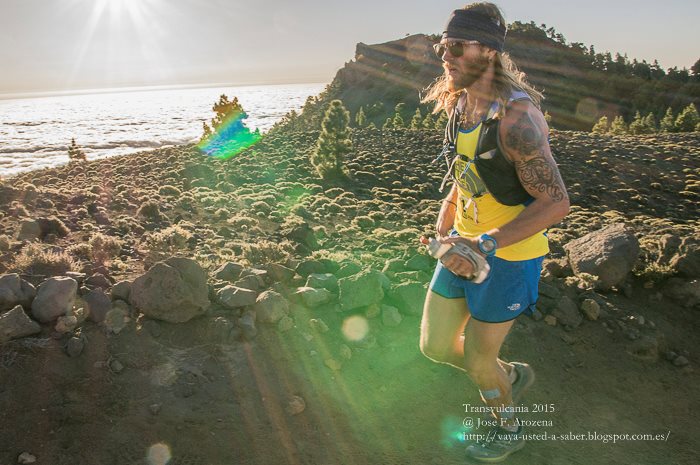 Even when the brain is a little fogged from a hard day, I can still recall fond moments like the sunrise booming with colors over Mt Teide and the sea of clouds that relinquished the pain in my body and brought me into the moment, aware of the simple fact that I'm alive and running in one of my favorite places. Even in the midst of my suffering and nausea, the crowds cheering my name, sending me off with words of courage kept my spirits high. I'm very grateful for the loving La Palma community that propelled me forward when things felt bleak.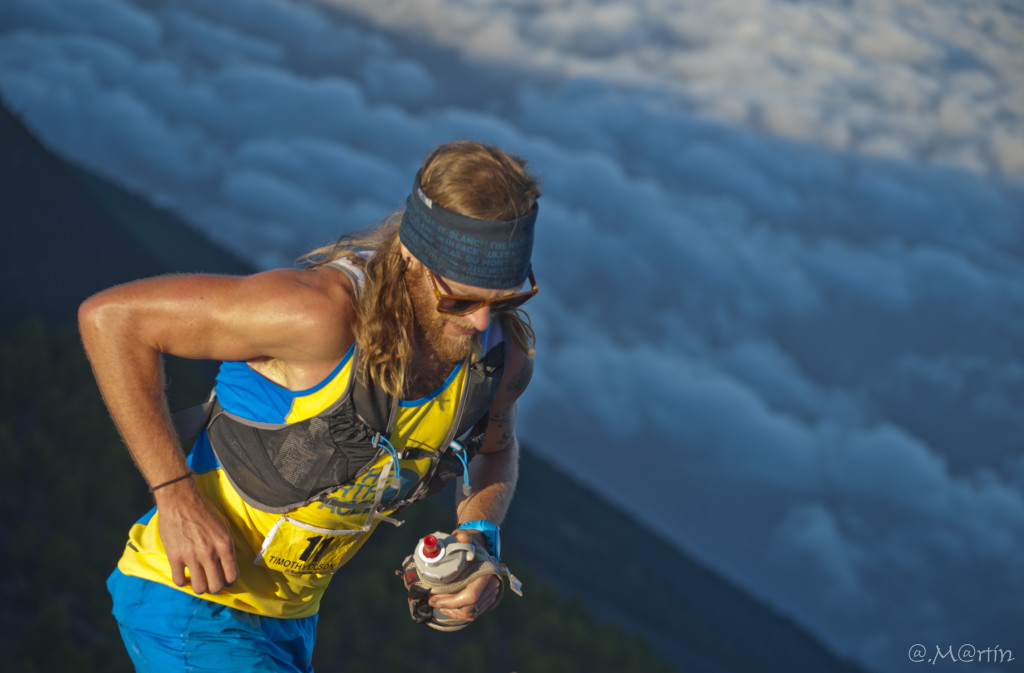 In hindsight, I had confidence in my running but I felt like I should have had some bigger days in the mountains to give my legs the strength to keep pushing especially on the decent to Porte de Tezacote as my legs were really hurting. We all find different ways to to train and I'm stoked to have help with excellent coaching by Koop at CST. I still need to work different engines and be able to push harder when the moment warrants, but much of my success and joy has come from big, hard and challenging days in the mountains. I do believe my body to be gifted to run the way I do, but i'm also very aware that my success has come from pushing my limits and experiencing really emotionally and physically challenging days on the trails. Anything I've accomplished has come from a relentless spirit that never gives up and when things get tough, I don't complain, I only ask for more.
And with some more lessons learned and a fire within to keep pushing myself, I dust myself off, remember why I do what I do and take that love to new highs by remembering that being uncomfortable is a part of what I love, pushing forward with confidence and determination.
Overall I had a great time in La Palma and I look forward to being a part of this event again soon. The organization is amazing and it's always so good to see them and thank them in person for all the hard work they put into this event. It's a special event with an island vibrating with positive energy. Thank you all!
I'm now back home in Boulder – running just to explore, training to be my best and enjoying local races like the Dirty 30 as just a fun day of running on some local trails with good friends. I had a great time and hope to write about that experience too – hanging out afterwords and meeting some new friends was treat and I'm sure I'll be back to enjoy some beautiful local trails.
We are excited to be launching our Run Mindful Retreats this upcoming weekend. We have a solid group joining us for a sold-out June retreat. There's still spots left for our August 7-11th retreat. These retreats are a way to share things I've learned over the years through running and life while introducing new friends to living more mindfully and consciously. Boulder is an amazing mountain town and I look forward to sharing this beautiful city and its stunning landscape with our participants.
And I'm excited to share a promotion that we're doing with Ultimate Direction. The first ten people to sign up for our full August retreat will win a free Ultimate Direction hydration pack. Sign up now and join us!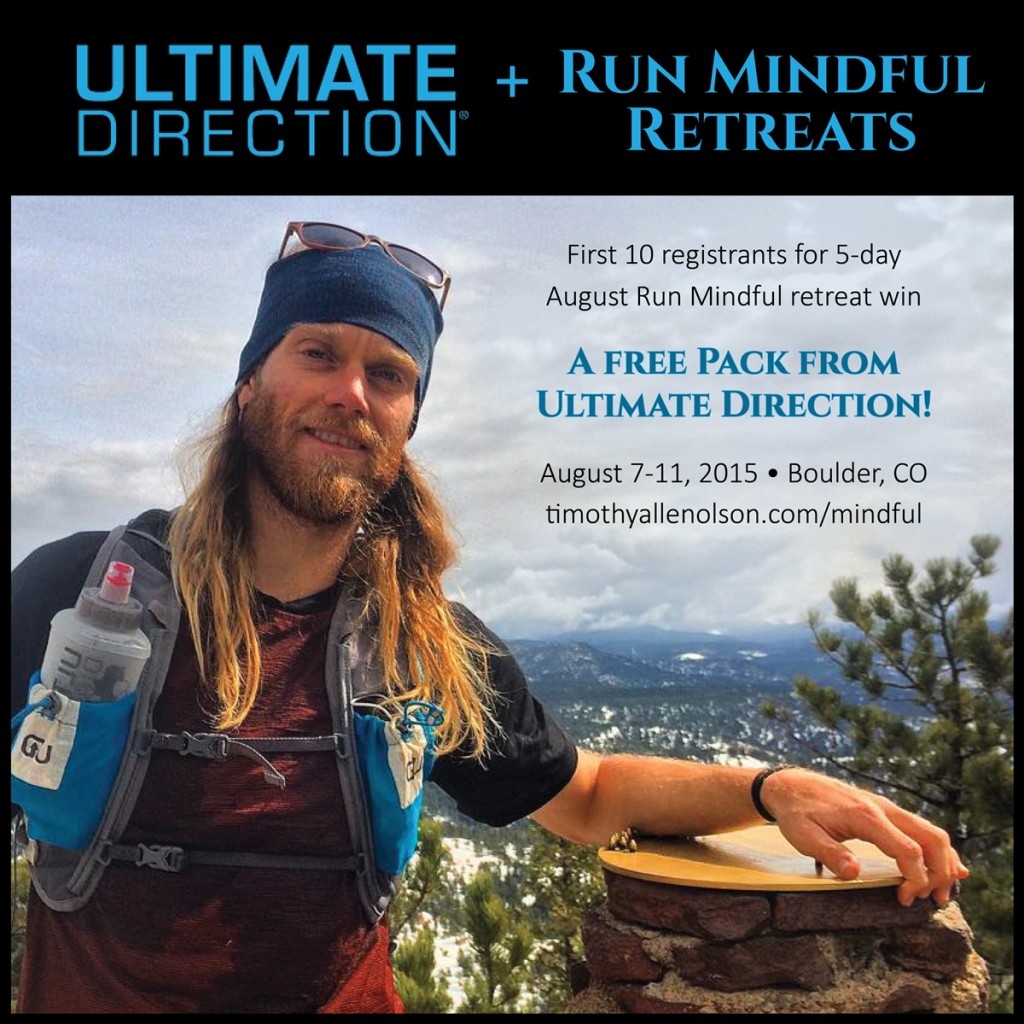 Meditation/mindfulness is basically a workout for your mind. We all get out and exercise our bodies regularly but we also should keep our mind in shape too, treat our whole being with care and compassion. These retreats aim to bring you more aware to the truth within each of us while giving you a moment to take a step back from the chaos and commotion of life and just relax; go for some good runs, eat amazing food, engage in some fun conversation, letting your whole being relax so you can come back home to your life, family, job or wherever life brings you next, as a more present and happy person. It's going to be just what the doctor ordered.
peace,
timothy