Back in February my family and I set our intentions for the year to experience new places and enjoy their culture. Our hope was to step back and learn from the wealth of knowledge and places this world allows us to explore. We pulled our son from preschool, ready to open our eyes and hearts up for the world to be our guide. Since then I've traveled from across the US for endurance challenges/races to around the world. After ending summer at our home base in Boulder, Colorado, running the vast network of trails and taking advantage of all the bubble has to offer, we are kicking back into the whirlwind of international travel.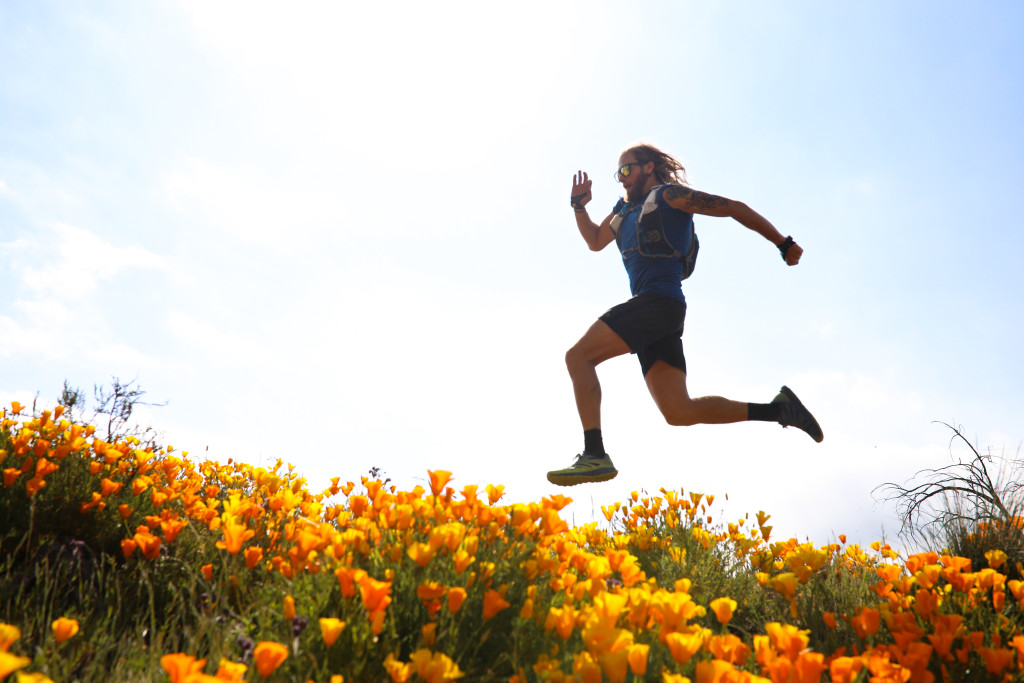 Photo credit: Emma Hussey
One week after battling a chest cold through Utah/Idaho to the finish 4th at The Bear 100, uffda, we packed our bags and boarded a plane to Santiago, Chile. With about one third of Chile's population living in Santiago, the overwhelming bustle is somewhat congesting. Cityscapes aren't the usual place of choice, but I believe you can find beauty, freedom and space in any nook and cranny if you just take a moment to look, feel and listen, your eyes and heart will open right up. Luckily, my wife Krista, is now proficient at seeking out the creative and unique places we enjoy exploring. While spending a week in the busy city, we found our favorite spots and frequented them often. Here are a few examples.
Parque Natural San Carlos de Apoquindo – Beautiful network of trails to the east of the city where we were in awe of the fields of poppies in the mountain saddles (photo above). This is also where The North Face Endurance Challenge race takes place.
La Chakra

: Our go-to independent grocery shop. On top of selling kombucha and organic vegetables, La Chakra also houses a small cafe serving up delicious gluten free and vegan treats.

El Huerto (vegan restaurant):

Oftentimes while abroad, my family and I eat at vegan/vegetarian restaurants as it seems like this is associated with "healthy" outside of the US. I'm open to these diets and like to experience the benefits they offer. El Huerto was a great option with fresh ingredients and wholesome plates.  

Cerro San Cristobal:

 One of the largest metropolitan parks in South America. Only about half a mile from our location in Providencia, this was a nice place for a quick run plus stellar views of the city with the Andes towering high in the distance.
The North Face Endurance Challenge rounded out our stay in Santiago. Such fun to have trails and mountains in such proximity to Santiago. We enjoyed the trails as a family, during the race and the highlight was finishing the 50k with my son who hiked with his mom and then ran the last 4K with me to the finish. Great to see so many friends and enjoy the party after the hard day's run.
We then road tripped west through fields of wildflowers and farmlands to Pichilemu, the surf capital of Chile. Away from the bustle, Pichi provided a nice breath of fresh, salty air and a chance to reset back into the wonder of experiencing a new place. Sunsets on the black sand beach, fresh raspberry juice and a quiet couple of days geared us back up for the rest of the trip, which would be filled with travel, adventure and the chaos that naturally comes with navigating through foreign lands.  
Life, family, travel, ah the beautiful mess of life. In those challenging moments with two wild little ones, the ocean guides me to embrace the crashing waves, riding this chaotically blissful time in our lives. Surfs up brah.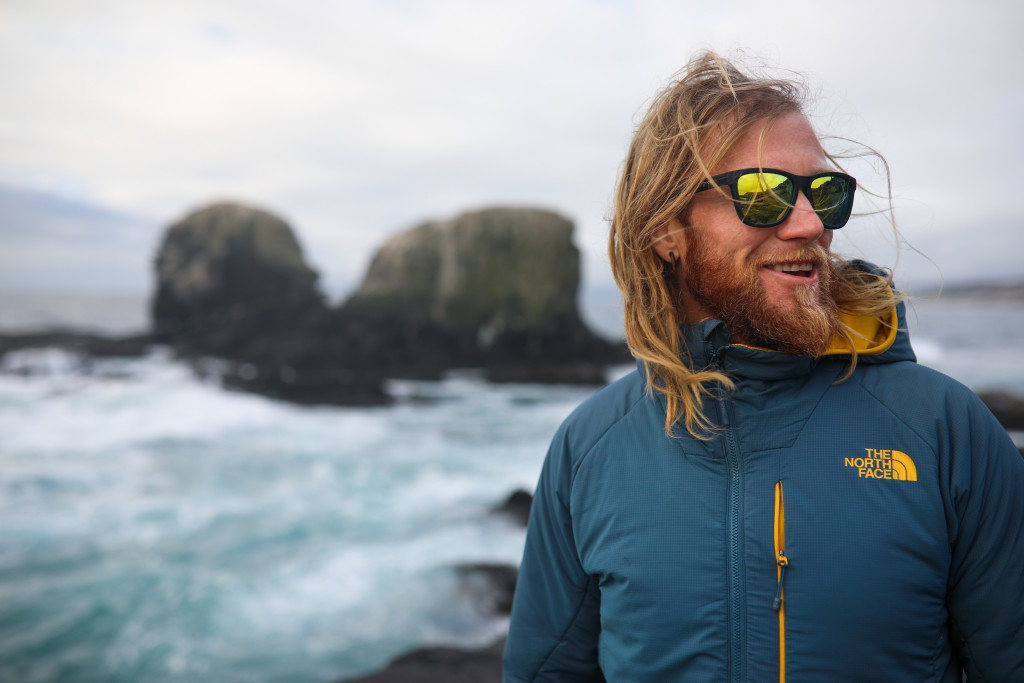 Photo credit: Emma Hussey
Lodge del Mar 

– We typically use Airbnb when traveling, but this little village of beachside cabanas buzzing with ocean energy quickly became our favorite lodging option for the trip. Each cabana is equipped with a wood fire hot tub and a view of the atlantic. If you're a sauna lover, like me, they can fire up a quick wood burning sweat if your soul so desires.

Playa Punta De Lobos

If I loved surfing like I love running, this is where you'd find me. It's where the surfers go and apparently the best left point break wave in Chile. Cliffs covered in cactuses with surf shantis left and right,

in t

he right season, Punta De Lobos is Chilean surf culture at its finest. We strolled atop the cliffs and took in the views.

Centro Comercial Altomar

– Just 1k South from Del Mar, Altomar houses a handful of restaurants and shops, our favorites being

Curcuma

(gluten free/vegan – amazing plates with fresh hummus and veggies) and

La Boutique Gourmet

(natural food market).
About an eight hour drive south from Pichilemu lies the most active volcano in South America, Volcan Villarica, in the town of Pucon. Typically in spanish "volcano" is a masculine word, but those who live in Pucon reference Villarica in a feminine manner as the volcano instils a certain fiery strength in the women who live in the area. Pucon sits in the shadows of Volcan Villarica and along the shores of Lago Villarica. On a clear night it's not uncommon to see lava bursting from the crater of the volcano, causing an organic dancing burst of light. With such a powerful force of nature on the horizon, the town is heavily influenced by the outdoorsy, adventure folk who reside there. Naturally, this drew our attention.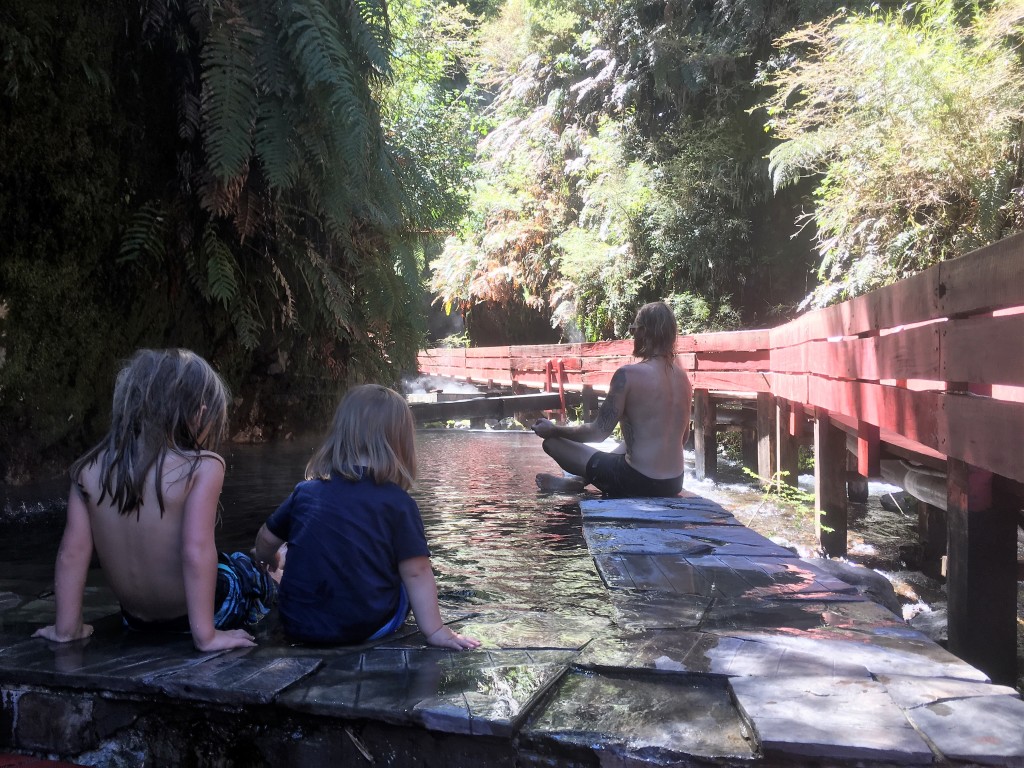 Volcan Villarica/Villarica Volcanic Caves:

With a guided group you can summit Villarica, but requires some some technical mountaineering we unfortunately had to miss out as kiddos weren't allowed (will have to save that adventure for the next visit, T$). We chose to visit the Villarica Volcanic Caves which our kids loved as the walls looked like melting chocolate

. T

he guide was super friendly and educational which made the outing fun for all. This particular cave came from an eruption in the winter; just imagine a mountain of lava come flowing into a bank of icy cold powder. The outside hardened while the hot creamy inside kept flowing creating a bunch of unique crevices for us to examine.

Termas Geométricas

: Located in Villarica National Park, 17 natural hot springs carved out along a mountain stream make up Termas Geométricas. A red footbridge zigzags back

'

n forth connecting the termas winding back through a canyon eventually crescendoing at an immaculate waterfall. Lush shrubbery dripps and drapes along the cliff walls creating a hidden eden while the ground breaths with vapors from the pools. This was definitely a highlight of our trip and a visit to the termas geometricas truly indulges the mind, body and soul.

Santuario del Cani: This privately owned sanctuary starts with an awesome steep trail as it weaves you up into the mountains. Both Cani and Huerquehue (below) bring you up to see whimsical monkey trees, Araucarias.
Huerquehue National Park – Great trail among alpine lakes, several stunning waterfalls and rooted, vine-woven forests, with beautiful views of the volcanic peaks in the distance.
Masajes Pucón: 

Constanza was very skilled, using good therapeutic pressure to work out the kinks and full body deep pressure which relaxed the mind and body for a perfect tranquil experience. Super beneficial after a hard season of running.

Trawen:

Trawen has its own small farm where it grows fresh organic vegetables and exercises this same style of mindfulness in all their ingredients. A healthy mix of traditional and foreign plates, this restaurant is a go-to for a nice meal while in Pucon.

5 Sabores: 

This small Thai restaurant served about five dishes out of a small walk up window on a corner in downtown, perfect for a quick bite. If you get a chance to stop by I recommend, but be sure to have cash on hand.

Siempreverde: Small organic, natural food market.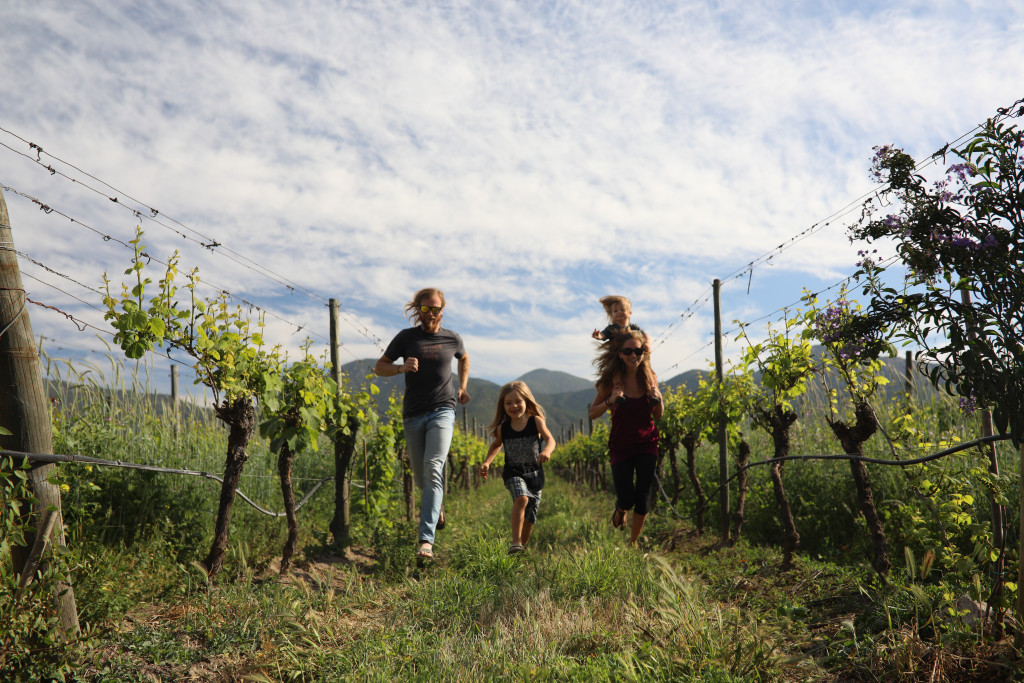 Photo credit: Emma Hussey
After Pucon we made our way back north towards Santiago. To give some breathing space during our eight hour drive we stopped at Chile's original organic vineyard, Vina Emiliana, for a glass of wine in the countryside. We enjoyed Coyam, one of the best tasting wines I've ever had (keep an eye out for it at Whole Foods) while our two boys chased the wild chickens and lizards around the grounds. We spent our last few days in Viña Del Mar next to the Valparaíso to take in more ocean vibes before returning to the mountains.
El Patio:

This was our daily stop for fresh pressed juices, smoothies and bowls while in Vina and is conveniently located directly across the street from Renaca Beach.  
We packed a lot into our time in Chile, which paid off in ways we didn't expect. Typically we like to spend time in one place to learn about the people and place, but with Chile's vast cultural diversity from North to South, moving around helped soak it all in. While it was a somewhat chaotic way to enter into my off-season, filling that time with my family, finding the joy in exploring new places, balanced out all the movement throughout the year. That balance oftentimes falls to the shadows, but I try to remember one of the most essential ingredients in mindfulness – gratitude. With patience, presence and appreciation, I'm ready to keep surrendering to all the chaos life brings and remember how lucky I am to be alive in this amazing, crazy world because if there's one constant that always proves itself present, it is chaos. Whether it's creating content for a new app project we've been working on, gearing up for another season of training or traveling through a completely new place, I'm blessed to have my family here by my side taking it all in with me. As of now, we'll finish our 2017 and continue our travels well into 2018. I look forward to sharing my journey with you and keeping the good times rolling.
Peace, Timothy