Well we've been on the move for the last 6th months. Much has happened, we've met some amazing people and enjoyed beautiful landscapes. We are now in Southern California and enjoying daily runs with sunshine in January, pretty damn amazing and maybe something we'll have to get use too…:-) The people have been incredible here and i'm looking forward to exploring the trails with them. A few amazing people even opened their homes to us. THANK YOU so much, Dave n Maggie, The Coolie's and to Shannon n Barry!
1st Baldy ascent of the New Year.
The last few months have been a whirlwind, all the traveling and racing caught up to me and my mind and body were not happy. I took some much needed time off running and really any strenuous activity; I concentrated on what I put in my body and made more time for meditation, now I'm feeling in a much better space and ready to see what 2014 has in store. Now that I've listened to my body and feel rested I'm gradually running again and gaining fitness. It's hard work, but getting back in shape is a lot of fun. I feel sluggish at times, but it's just the slow process of getting back into top form and staying injury free.
These first two weeks of the New Year has been filled with many fun runs. Dominic Grossman has been an amazing LA tour guide and an enjoyable friend to log some miles with. The Los Angeles area has so many amazing trails and mountains to explore. The San Gabriel Mountains are heaven. I've been to the top of Mt Baldy, which reaches 10,064ft with 5,700ft of ascent in 6.5 miles, love it! My other new favorite trail is up to Mt Wilson which summits at 5,700ft with 4,700ft of ascent in 7 miles. I've done numerous runs, from my first run back to LA to the top of Twin Peaks and Mt Waterman to beach running in Hermosa Beach. From speedy runs on the beach to big climbs in the mountains, all these runs will come in handy as I prep for Hard Rock and other demanding mountain races come this summer. But most of all, I'm enjoying running and feeling free.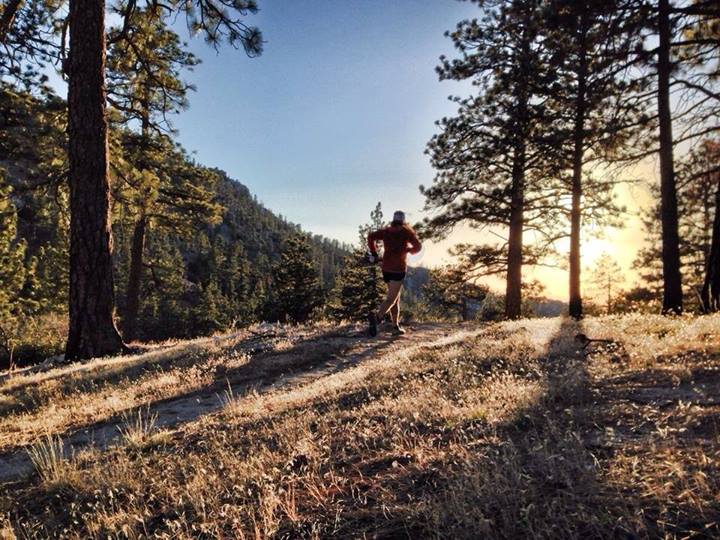 Speaking of racing, it's not set in stone, but my 2014 race schedule looks like this…
2014 Race Schedule
Sean O'Brien in February as a fun run and an early season long day of running.
Transgrancanaria in March in the Canary Islands, I'm really looking forward to this early season trip to the beautiful Island of Gran Canaria.
Lake Sonoma in April, again as a fun run and getting to see all my favorite US peeps.
Transvulcania in May in the Canary Islands, one of my favorite races from last year in a beautiful spot with amazing people.
Hardrock in July, which will be my main focus, I will probably think of this run daily until race morning. I can't wait to be in these beautiful mountains, running a race with the ethos I believe in. Enjoying mountain running in all its glory, taking all the beauty of the San Juan's in and becoming a better person through the process. This will be a journey of a lifetime and I can't wait to be a part of the Hardrock family.
UTMB in August in the Alps, if I can heal up properly, I have unfinished business here. I had a rough day out there last year, but somehow struggled my bones in. This year, I'm hoping some course knowledge will help me get around that massive mountain a few minutes faster.
Grand Raid Reunion, La Diagonal De Fou in October if my body can cooperate. This race looks incredible and one I hope to enjoy this year or in years to come.
All in all, I'm very excited for this year, putting forth intentions of focus, strength, health and living joyful in each moment. Every moment is new and a chance to be the best I can be. Putting forth these intentions I hope to manifest thee impossible, I hope to be the silent observer, working hard and staying focused.
peace. timothy
P.S. Hope you enjoy the new design of my blog thanks to my lovely wife!