Tic-tock went the church bells as Lavaredo Ultra Trail took off at 11 pm on a Friday evening in downtown Cortina. It wasn't quite raining on this balmy eve, clouds swirling, allowing the sky's glimmering Friday night lights to peak through, providing ideal conditions to lead us on our way. Dramatic music played in the background as the town energized on emotion, espresso and cocktails, sent us on our way with vibrating cheers. I remained relaxed after a long day of sitting on my bum, reading books, sitting still, setting intentions for a warrior's journey off into the Italian Dolomites.  I told myself to relax for the first 50k and let the race unfold naturally. Reminding myself to not let others dictate my pace, I had a gentle confidence that today was going to be a good day on the racing front. I trained hard, I rested well, I was calm, but the tic-tock of my heart beat raced to a different drum.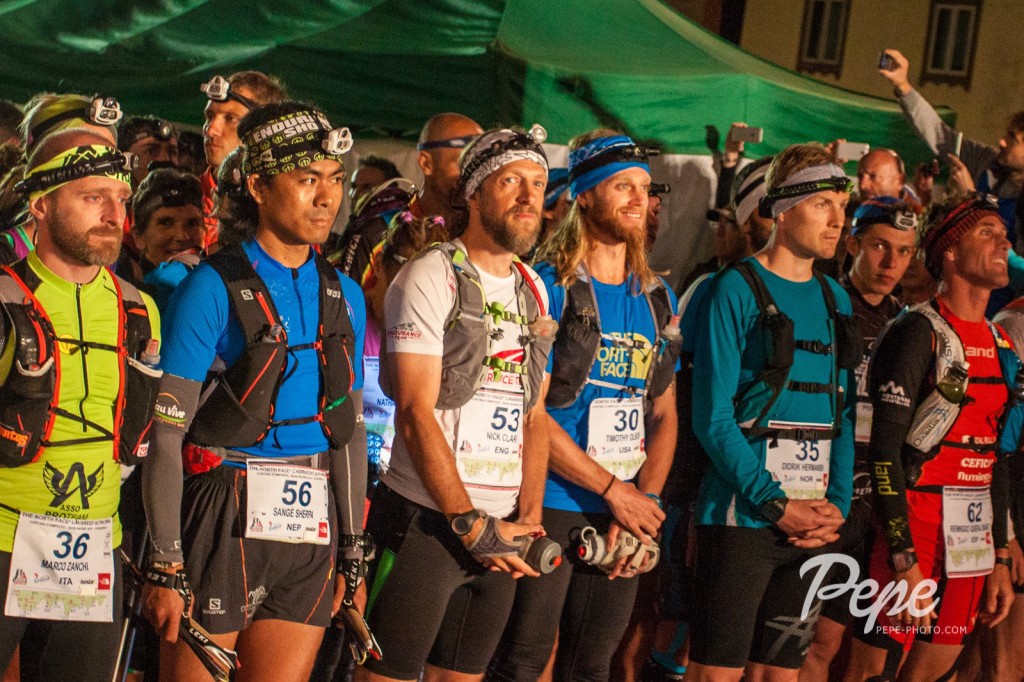 Photo by Pepe Photography
I possibly … over-wanted this race to be one of those magical times where the ground and my feet intertwined to dance across the mountains. I hoped my mind and body would be tested with delight and that as the dust settled after a long day, I would be able to stand back in awe and soak in the joys of a pilgrimage done right. In the end, my race was not an unforgettable day where it all comes together and maybe that's just it, I need to just enjoy what is, step back from the drama of conceived heroics out on the mountain playground. Stepping back, I am reminding myself that I'm not defined by any certain run. And that the key is to transform my run into what it should be; just a moment, perfect as is, where my content heart can flow, ever settling and expanding as I experience gratitude. It is a moment to thank God for each breath and the joy that arises from a simple motion and the synergy of form being set free as it parlays with the earth.
To move, I feel the earth and want to plunge in, feel the grit in my teeth, hands and hair as my body and mind emerge earthed a new self, a raw self and thankful for life. So, the race didn't play out, but my understanding has once again grown and put more emotions in my body to be content with a beautiful day in the mountains, with friends where I'm awakened to a deeper understanding of my body and what it really enjoys.
What do I love about racing? Does competition prove anything, does it serve my inner purpose or is it just my ego wanting to prove my strength and worth? When I don't perform how I'd like, does that change anything in my life experience? Do I love running or does my ego love to win? On this particular run, I learned I just really love my life, wife, son and son to be, my family and friends and how a hard run when the heart doesn't feel right, that maybe it's a gentle reminder that I run simply to be free and racing will happen when it will truly be a benefit. Right now, competitive racing seems trivial in the way I've been going about it and in order to race with the vibrations I want to put out, I need to pump the breaks and make sure I'm doing this with the purest of heart.
I race to go out of my comfort-zone where life's perplexity unfolds unexpectedly and gives me moments to ponder. I put extreme focus and effort into one foot in front of the other, as it trains me to stretch and grow until my ego is no more. So, I'll continue to race or at least run and be content with uncomfortable moments that stir and swirl my brain and emotions in this entertaining game called life. I'll keep playing, throwing my dice, observing others as well as myself and not judge which way is labeled right, wrong or left; just as long as this makes my heart smile, I'll carry on.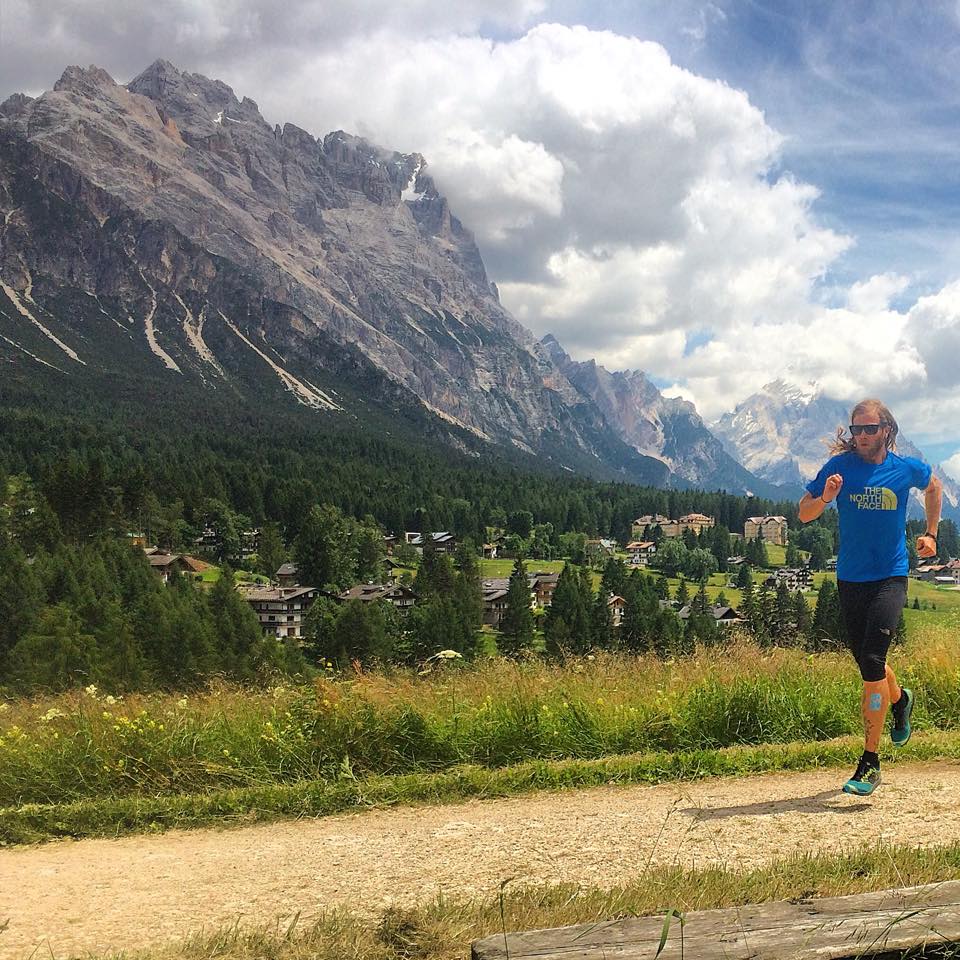 Not sure what that all meant, but I guess I just needed to speak, let the words out of the bag and see what ends up in the heap. I like when I don't make sense or sense to me because the sense that I sense in writing is sensibly accurate and turns out okay to me. Speaking your mind comes out in peculiar ways and when words come out as wisdom…it just is as it is as I keep following my path. (man I read too much Dr. Seuss)
Most of my race was in the dark, literally, figuratively, or to be particular in the beam of my head lamp or others light as I was foolishly trying to use batteries from UTMB's slog moths prior; so my dim headlamp lead the way as the panting and breathing of runners echoed into the night. It was a pleasurable run, winding around switch backs and cruising through tundra up and around, knowing giant walls of limestone where towering over us in every direction. It was a special time to connect with the ground and make sure I didn't make a move too early. I was quiet, listening to the sounds, soaking in the smells while staying relaxed yet focused.
As the darkness dissolved and we grunted up to Refugio Auronzo around 50k into the race I started to see the outline of massive rocks, looking as if they were shot out of the ground like a geyser. Passing through Forc Lavaredo aid station and continuing onward Tre Cime became ever apparent stopping me in awe, I didn't feel well, but if there is one thing to settle an uneasy stomach/race, it is Tre Cime de Dolomites and the unreal surroundings to match. It's like right up-in your face and one of the coolest things I've ever seen. It felt unreal, like I stumbled upon this in a dream, leaving me utterly speechless. As day broke and more light revealed itself the awesomeness of this area shined through. It was incredible and breath-taking, with big rocks and jagged peaks silhouetting the horizon from all sides. And this was about the time my literal breath was leaving me too.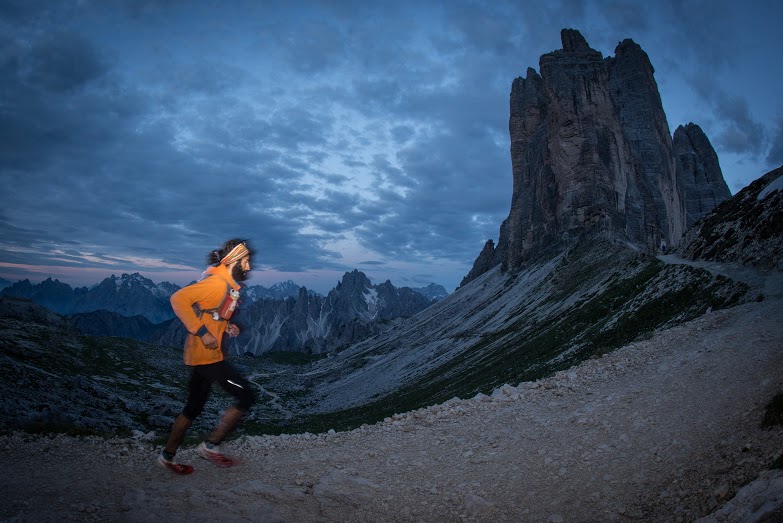 Tre Cime – Photo : The North Face Lavaredo – we kinda look alike 😉
50k in and pretty much the whole race thus far I had felt nauseous and calories were not settling right. It felt like the struggle of being at altitude, like I'm fighting to get oxygen but there's never enough. I felt continuously thirsty and my heart rate seemed to be way too high for the kind of effort I was putting forth. My goal for this race was to start conservatively, but it didn't seem to matter that I started easy, my body wasn't having it. It could be mental, it could be physical, maybe I'm just tired of racing – whatever 'it' is, I aim to figure this out and get back to my old self, or even better, to the self I am today with a deeper understanding of why I run, remaining passionate and free in wild and scenic spaces I've been fortunate to see. I'm not worried, the game of life is like that and if I stay grounded and present as I continue to grow, I'll be aware to witness what that truth is to me and keep doing this running thing.
As my body continued to not respond favorably and the 7 kilometers of flattish section was allotting me 10-12 minute miles, I had more than a feeling something was up. I came to my amazing The North Face crew of Dave and Alex who selflessly took care of me all night and day and can dance pretty damn well too. There was such a great troop of volunteers, spectators and other North Face crew there to cheer me on. I convinced myself this was a low patch and I'll calm myself, breathe deep and crawl my way out of this funk over the next bit. I left Aid Station Climbanche (67K) encouraged from the love and support of great people and marched on.
The next 10k took me hours, as my body continually told me something was up, I went through cold sweats, unusual achiness that seemed unwarranted from the day's effort thus far and a heartbeat that would spike when I attempted to run. So I walked and walked, smelled some flowers, looked at some big rocks and painfully creaked my way down to Aid – Malga Ra Stua, 77k into the race and called it a day. It was 8 in the morning with nothing but beautiful blue skies and mountains waiting to be explored. I sheepishly got into our getaway vehicle and headed home. Not the way I was planning to enter back to Cortina, but it was my reality and honestly even with a bruised ego and a sore body, heart and mind, I was just fine and I'll live to run and enjoy another day.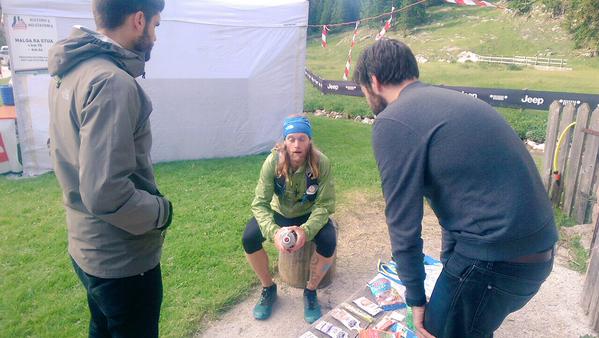 Photo by iRunFar
I wasn't able to see the last miles that I've heard are exquisite, but that only reminds me that I'll have to come back, stronger, wiser and down the road when I get my body, mind and spirit back in order and ready to tackle the challenging Dolomite mountains. It was still a great experience as anytime you are broken down enough to ponder some difficult thoughts, 'the run' did exactly what it was supposed to. It took me deep into myself, unearthing greater potential.
As I sat there in Cortina, eating some tasty gluten-free pizza at Al Passetto and kicking back with some vino, I was content and ready to go home, hug and kiss my family and put this race into that space of past. The present is bright with happiness beaming out of every crack. Life is beautiful even when it doesn't work out as you imagined; the beat of my drum propels me forward as my heart swells with empathy and love for each of the journeys we take. Tic-tock goes each fleeting moment and I plan on witnessing many more from a grateful space.
Thank you all for your words of encouragement; it's not easy when things crumble in front of you and you feel the choice to share this experience with others. We all mirror each other, we all have challenges great or small, and it's nice to have the support of a compassionate world that lifts each other up when we fall into a hole. May all of you continue to stay present and strong, like a mountain as you carry on, remembering to stop and smell the flowers and continuing to help your fellow living breathing being out along the way.
Peace,
tao

Looking forward to sharing the trails with some of you this coming August here in colorful Boulder, CO. If you can join us at Run Mindful Retreats, it would be great to share this experience with you. Our early deadline special just passed but we'll give you a limited time early discount extension if you sign up with the discount code Mindful7615, only valid through this Monday 7/6/15.
Here's a video of our June retreat. Enjoy. Music credit Cornflower
And a few of our favorite photos, sharing trails with people from all over the world.