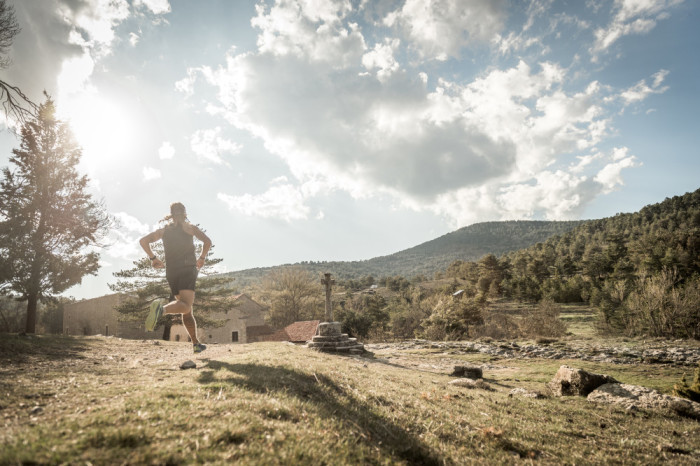 Redemption, what a sweet sounding word; it's been an intention of mine for quite some time. I didn't know if it was possible but I've been optimistic for years and finally I was able to put my mind, body and heart all together and run like I know I can. Sitting now, relaxing after such a run, body still buzzing from the physical effort put forth, I can sit content and know just what we've done to get here. Running is a team sport and I'm in disbelief this dream has come to fruition.
A few years back, heck last year, I really didn't think my body would recover from the stress of racing, traveling and training so hard over my career. I basically just over did it and had to pay for it during the last few years. I continued to train and race but without much hope, yet an optimistic spark remained. I had this dream that I could be patient, rest my body and mind, then recover, training my body and mind to accept the stress of training but balance it with proper nutrition, rest, recovery and mental training via my meditation practice. It wasn't easy and I thought of hanging up my racing days to the past, however I just didn't want to be done with racing yet. I still felt a push to go out there and enjoy each race, to train and give my all. It's a good feeling to pour out your soul in a race. Purging the body of anything fake and be rocked to your core. Having a route, with excellent competition and a community to bring a race alive really puts you in the spirit to let it all out come race time. In the end it's just a silly race, but there's something beyond it, something that brings out the best, not only in yourself, but everyone around caught up in this ultra-fun sport. It gives people hope, it touches and engages the soul.
When I race, when I run, I really enjoy it, but I don't give my all just for me. When I run, it's like I give my best, not just for me but for all of you. We've all experienced a "hard time", heck life is filled with struggles, moments of suffering, but nothing feels better than overcoming an obstacle; getting up from a fall, dusting yourself off and trying again. It's called living, its appreciating this moment, this one precious life we each are blessed to have. In life's ups and down, it's easy to get distracted from the positive in your life, focusing on "bad times" that maybe have added up to a little crust, a little hardening around the heart. For me when I run, I hope it inspires some to ease up on some of that hardening, to let down those walls we put up and truly live life to the fullest no matter what comes our way or where we are in life's journey. When I run, I run to be free and in doing so I hope it encourages others to do their best in whatever inspires them, whatever passion you may have.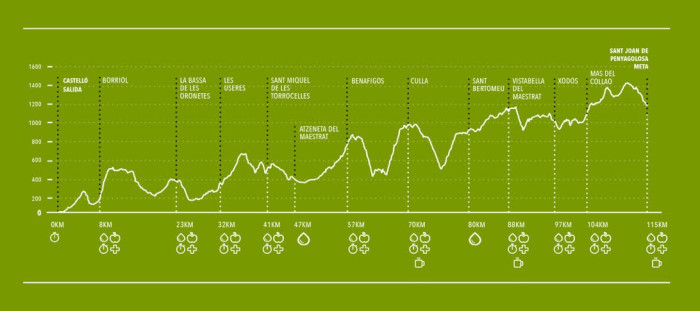 So the race began with a sprint around the track before we hit the streets of Castellón in route to the
Penyagolosa
mountains in the distance. We started near sea level as the race climbed higher and higher through the the night and day accumulating 115k (71 miles) and 5.5m (18,000ft) of climbing. The journey began fast as everyone was ready to go from the gun, all knowing we had a long distance to cover but the lure of runnable terrain made the pace go out quickly.
Didrik Hermansen
(a champion in our sport and the heavy favorite for the win) easily took the lead with a few others early on and was out of sight by the first aid station for me. My mantra was simple, sweet and muttered 100's of times, "patience, presence". I muttered this to myself, sometimes even out loud through most of the night as the stars sparkled above. The course varied quickly, going from running fast along city streets and dirt roads to swinging on to a trail filled with rocks that definitely brought forth my attention. My main goals for the start were to not tweak my ankles and not push too soon. I breathed, relaxed my shoulders and tried my best to float over the rocks. During the flats, I breathed, felt my inner body and really checked in if I was running sustainably and fueling efficiently. I was rolling, enjoying and monitoring the systems. I felt in rhythm and that I was moving purposeful.
I ran the first 50k more or less in 
4:30
, so climbing to Benafigos (57k) is when I decided to start racing. My stomach settled from the early faster kilometers and the legs had been primed for a beating. I was running mostly with the same handful of people for most of the night. We went back and forth leading sections and pushing and pulling each other through the darkness. It was chilly but anytime my hands started to get a little numb from the cold, I would speed up and find a good balance of managing my output and running steady. My nutrition felt dialed in, giving me the proper amount of sugar to keep moving all night and day long.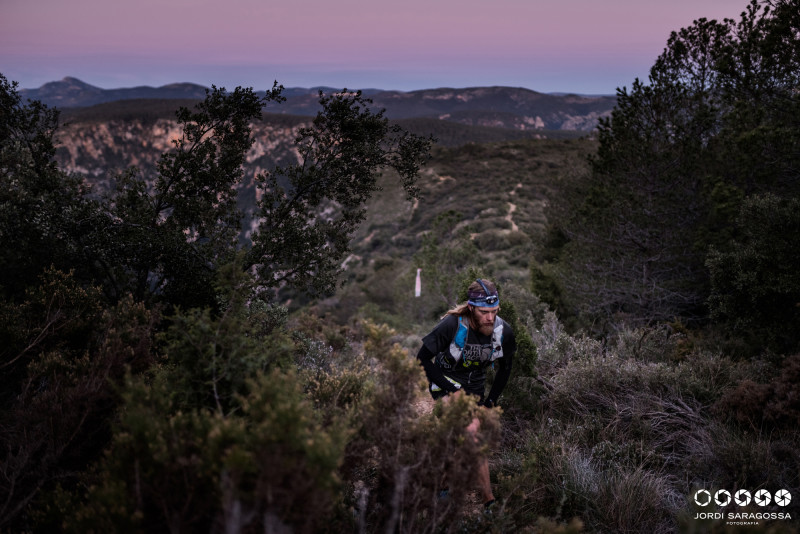 On the rocky, steep and grueling climb to Culla is where I dug deep and started catching people. I was in the top 10 for most of the night. But as sunrise started to creep its brilliance along the walls of the mountains we were climbing, I knew what I needed to do. I knew this section of the course from a few training runs and I figured the faster starters would be hurting a little bit from these two big climbs. I felt alive and hungry for a strong finish. I felt this way last year at Hardrock, after I had a difficult middle section, but came back and was able to race and hunt again to the Hardrock finish. I love running smart and feeling confident at the end of a race, I knew I could run well if I just maintained my focus.
Seeing my wife at Culla (70k) rejuvenated me with love and refreshments, I had updates that I was now running in fourth and gaining. I was hurting but feeling in the flow, with mind, body and soul connected and flying free. This was a good feeling; I maintained focus and brought forth an eye glaze that I experience back home when I'm running up to Green mountain in all-out fashion. I didn't want to jinx it but I felt back. I felt like I used to, way too long ago while finishing back-to-back Western States wins in 2012/13. Like I said, it's been a while and about damn time yet I keep those years in the past and live now, on the hunt.
Dropping down this techie section of single track I moved from 4th to 3rd and caught glimpses of 2nd place; good buddy and strong runner
Yeray Durán
. As we started the climb to Sant Bertomeu (80k) I passed Yeray and we stayed within eyesight for the next few kilometers. As brief moments of doubt would creep in, I would let them gently pass and remain in the moment, putting to work my daily practice of meditation. Just like all those laps up Green and Bear, you take your practice and apply when you need it most.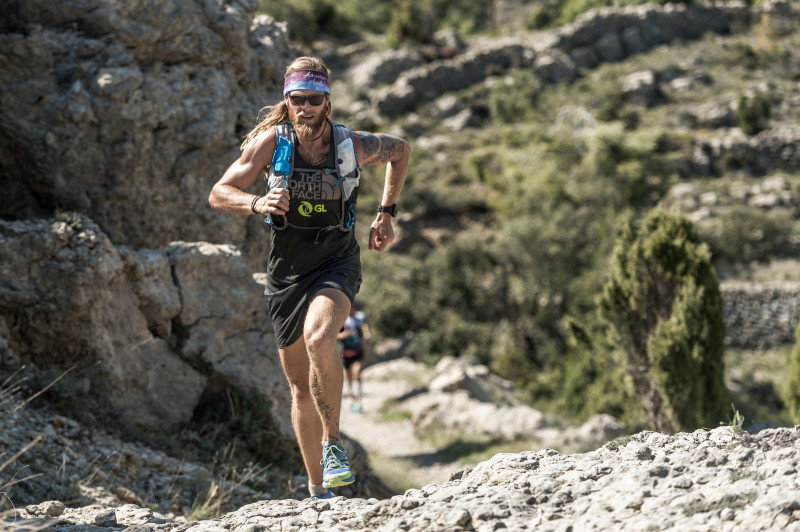 For the past few months I've been writing lots of content for a
Run Mindful
project that will be going live soon. In moments of doubt I'd come back to certain topics I've been writing about.  Just the night before the race I was writing about anxiety and letting it go with each conscious breath. I'm not perfect and fail many times, but my understanding of letting my mind vomit come and go, knowing this too shall pass and remaining grounded in the moment, eases my mind when thoughts and emotions arise. I really believe in the power of presence, all I could do in those moments of doubt was to breathe, run mindful and continue to run free.
Letting thoughts come and go, I stuck to my plan, kept fueling and putting one foot in front of the other. Then I caught a glimpse of Didrik, thinking he was more of a mirage, I consumed a gel. Ok, he was still there, so I figured I could catch him. I've never stopped believing in myself, but I was also never certain I would be running for first place again in a competitive race. But there I was, right there where I was aiming to be. So I said hi, told him to stay strong and never looked back again. I figured if I was going to take the lead I was going to push with all I had and see what I had left. I was in full-on grunt mode now and stoked as hell.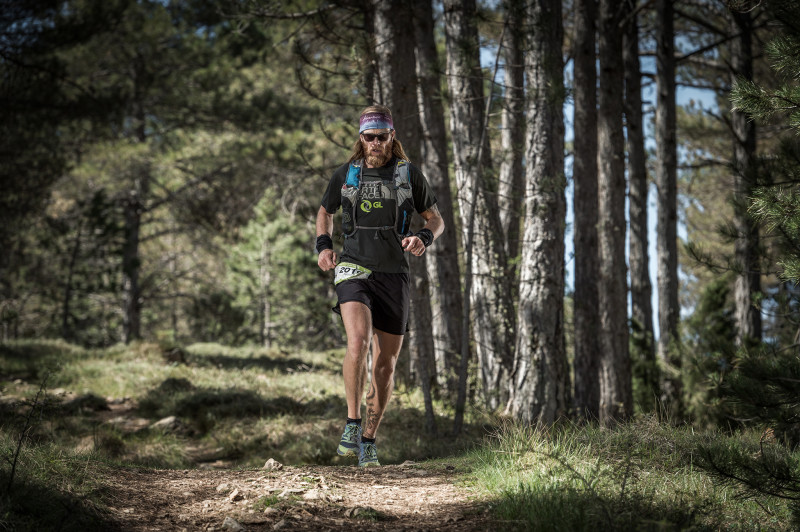 Running up the streets into Vistabella Del Maestrat (88k) I felt excited and shocked that I was in the lead. I met up with my crew, asked Krista if I was really in first? After she smiled and said "yes", I said hi to my kids and then I started running! Knowing there was still plenty of race left, I wanted to keep pushing, testing my limits and trying desperately to gap the runners behind. I felt ok, I didn't want to think of the future so I stayed right there with my breath and next step.
I don't always know why I'm running so hard, but when I see my kids eyes light up, happy and proud of their father, I simply just want to run for them. All the noise in the head goes away and I focus on their names, calling out to them and praying I see them sooner versus later in whatever place I can muster. I hope to make them proud in all I do, and I figured showing some guts and running with all I am was an okay way to go about it.
The day dragged on, the sun rose hotter and the rocks under foot seemed harder. I thought I'd snap an ankle for sure through the next winding section of single track, my ankles had some close encounters but I stayed sharp. Laughing at my awkwardness, I was hoping slow and steady would get me there in one piece. I was probably moving at an ok clip, but every step hurt so much, I figured I would be passed but I kept moving and running as much as possible.
Xodos (97k) came and went in a blur of steps and sugar, I wasn't fueling as well now but I knew I just needed to keep moving and hurting. Accepting the pain, acknowledging it and letting it take me to my limits. But in this pain-cave the table was set for one and I must feast. I continued on the path, running as much as possible, hiking when necessary but moving and clawing my way to the finish.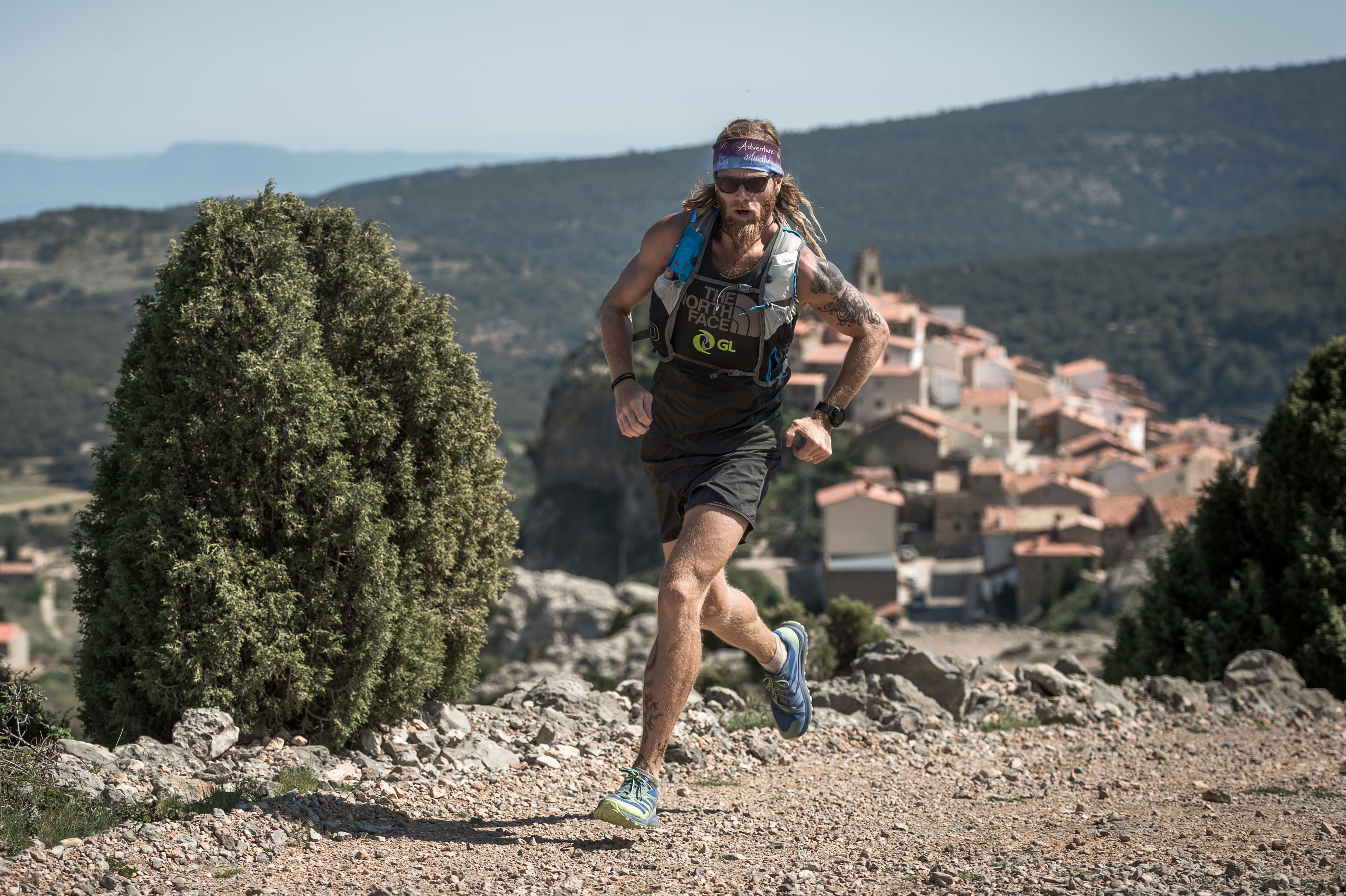 The trail started to deliver glimpses of the spectacular
Penyagolosa
peak, vibrant with color, standing proud and giving my eyes a little zip to keep moving. I was glad I ran this trail before and really appreciated this gorgeous place. I took the beauty in between wheezes and downward glances doing everything I could to not splat on my face, I embraced this challenge head on.
Downing some coke at Mas Del Collao (104k) I knew I was close, the aid station volunteers gave me energy and cheered me on. I wanted badly to be done so I focused intensely on each push off. I marched on and eventually crested that last mean climb. Listening to Chance rap about
Sunday
Candy, I was looking forward to kissing my sugar at the finish line, my amazing wife who crewed relentlessly through the night and day selfless as can be, and ready for us all to relax and enjoy our accomplishment.
I dreamed of this moment of reaching the Cross and finish line at Sant Joan de
Penyagolosa
. Give or take 115k, mostly give according to my Garmin, I reached the finish, exhausted, relieved and with a big smile. My wife handed me my sons and we crossed the finish line together. That was one emotional CR and win that felt just as good as any Western States win or any to that matter. The past doesn't matter, I live in the present and presently this run felt alright by me.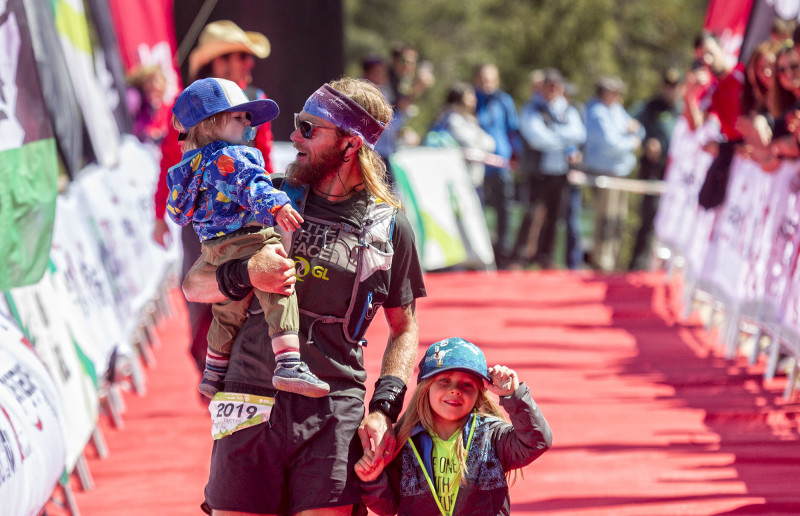 It was fun to celebrate not just my run, but everyone's hard achievement this day, I watched many cross the finish line full of well earned emotion. Tired from not much sleep the last few days, I prodded around like an old man, ate some delicious paella, ate more yummy food at the kind restaurant and most definitely indulged in some vino as the celebration kept cranking. Pondering back on all of life's experiences, I'm very grateful for this opportunity to be in Castellón, Spain with its wonderful community of new friends and for a run in a beautiful place that let me taste a little redemption along the way. It is a trail that few pilgrims have accomplished and I hold much respect for all the people who gave this trail their all.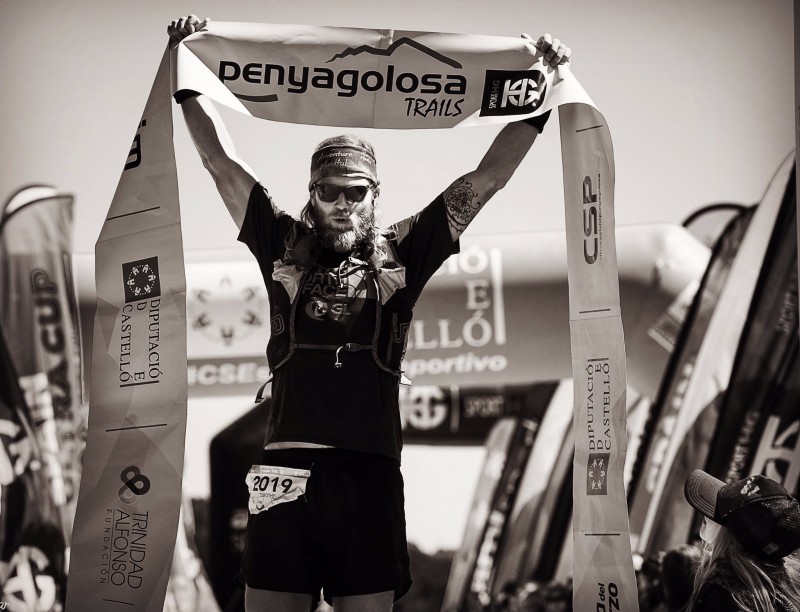 A huge thanks to the 
Penyagolosa Trails Race Organization
and city of Castellón for for making this such a great event and experience. Next year this race will be the World Championship and many people will be stoked to race here. We had a great time and really appreciated the kindness and generosity of everyone we encountered. Especially Carla and Cristobal who showed me around the city, the trails, a fútbol game and lots of yummy paella. Everyday was such a great experience, even having the opportunity to meet a bunch of awesome kids at the local school and talk about mindfulness. I really enjoyed getting to know many friendly locals.
And to all the people back home who never stop supporting me.
RAD – Real Athlete Diets
, who nourish me with incredible food while training in Boulder and
Boulder Acusport
for intuitive acupuncture aiding my body in recovery and balance. Thank you!
And to to my family, the glue that makes this a reality, my wife and sons who support and love me unconditionally throughout this journey of life. They are my motivation and inspiration to always try my best in everything I do.
Much much love to everyone following from afar, your support over the years has inspired me to keep trying no matter what. Thanks for all the love.
Peace,
timothy