If Light is in your heart, you will find your way home.  ~Rumi
Blog en español a continuación thanks to corrextuvida.com.
Accepting ones misery as I lay upon a junk-pile filth-ridden pad down by the river was one of the hardest things I've ever had to wrap my mind around. "What the fuck just happened," I pondered to myself as I tried to rise from the dead with no prevail, cuddling my junk pile collection. I felt like Steve Martin in the Jerk – I didn't need anything, just my new found treasure of a filth-pad and I wasn't going to leave its dependable comfort.
I'm still not sure how I got up, I guess my wife insisted, but then I started to move and then I threw up…a lot! This allowed me to breath again and to somewhat diminish the pain in my chest. It felt like someone elbowed me in the sternum, not allowing any air to pass to my brain where things were foggy and surreal. Throwing up helped a lot, I repeated this motion a few more times hiking up to Engineer Pass at 13,000ft, this routine started shortly after Virginus pass and an ill timed consumption of Red Bull. Exterminating everything I consumed the first 8 hours of running helped with my stomach and mind, but my legs had zip energy and I was pretty gassed on the idea of "pretty" mountains are fun to look at. Pulling the plug seamed so easy, clearly it was the right choice as my day was done and I couldn't fathom the thought of dragging my body over any more "pretty" mountains. Sure the San Juans are majestic and all that, but they're so mean and relentless. Yes, let's talk about that…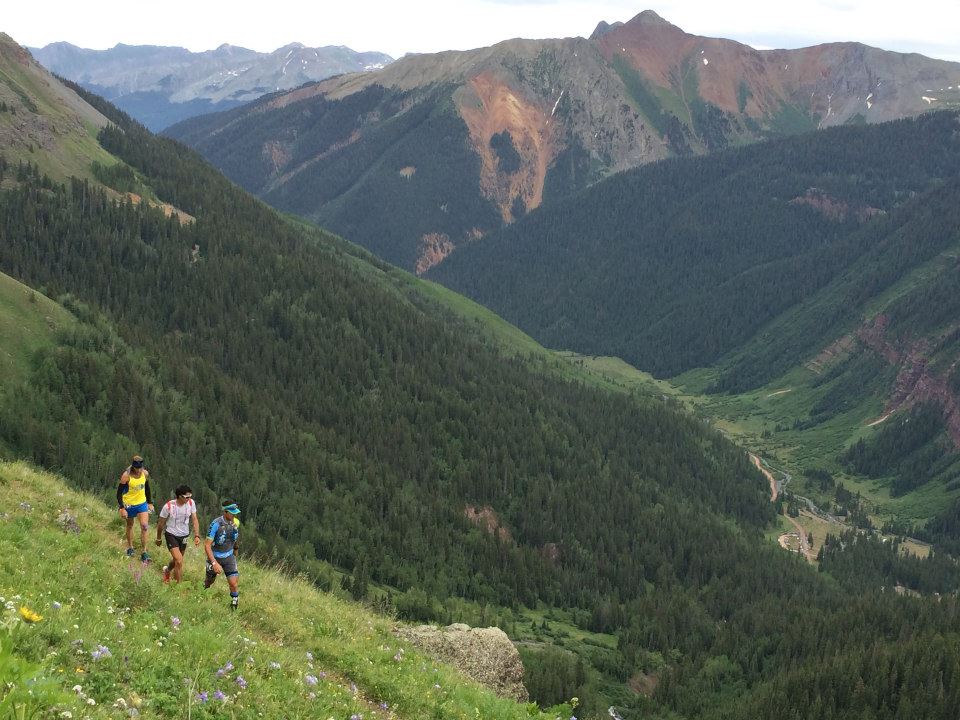 Early on. Photo by Kara Teklinski
I started my day like any typical morning. Eating some PocketFuel nut-butter and lacing up some kicks in preparation for an epic adventure in the mountains. From Silverton a group of legit and wannabe Hardrockers started trucking along. Our pace was leisurely, our moods up beat and our gaze focused on the tour ahead. I partook in a little conversation but was mostly amused as the four dudes I was mostly hanging with were all speaking French (Dakota is learning well, but Kilian, Julien and Adam were all fluent). It's a beautiful language, but all I can say is merci and a few friendly words to get in and out of aid stations efficiently. So I relaxed, let them displace their oxygen and listened to the river that spoke to me for the next few days. The river speaks many languages, but to me it mostly just laughed.
In no time at all we were climbing up n over Grant Swamp Pass (at 13k & mile 15), rising above Island Lake with mountain peaks reflecting in its crystal clear waters; I was feeling amazing, awestruck at the glorious mountains surrounding us and taking in the early morning hiking with good friends. We reached the pass and I let Kilian bomb down the ridge before me. I know he likes to drop in like he has skis attached, so I let him him free fall, giving him a moment so I wouldn't throw any rock bombs at his head. Then I skied my way down the scree too with Julien right on my heals. We were down within seconds, stopped to deposit our accumulated rock piles within our shoes and were off again.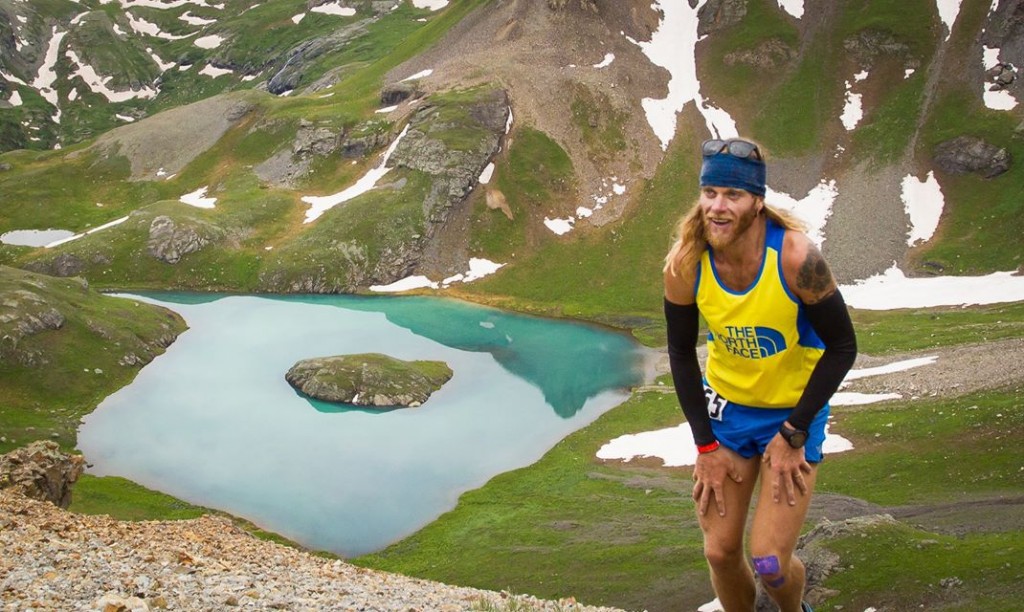 Island Lake. Photo by VFuel
We then enjoyed some wonderful single track down to Champan (mile 18) and right back up n route to a 4,000 ft climb over Oscars pass (13k and mile 21) before dropping into Telluride. It's all incredible, but these views were as spectacular as was my mood during these early miles. Climbing over Oscars was a relief as I pictured the course profile in my head; checking off another peak to what I believed to be a solid day in the mountains. I was so naive back then, so young, so innocent, bring me back to those good ol' days.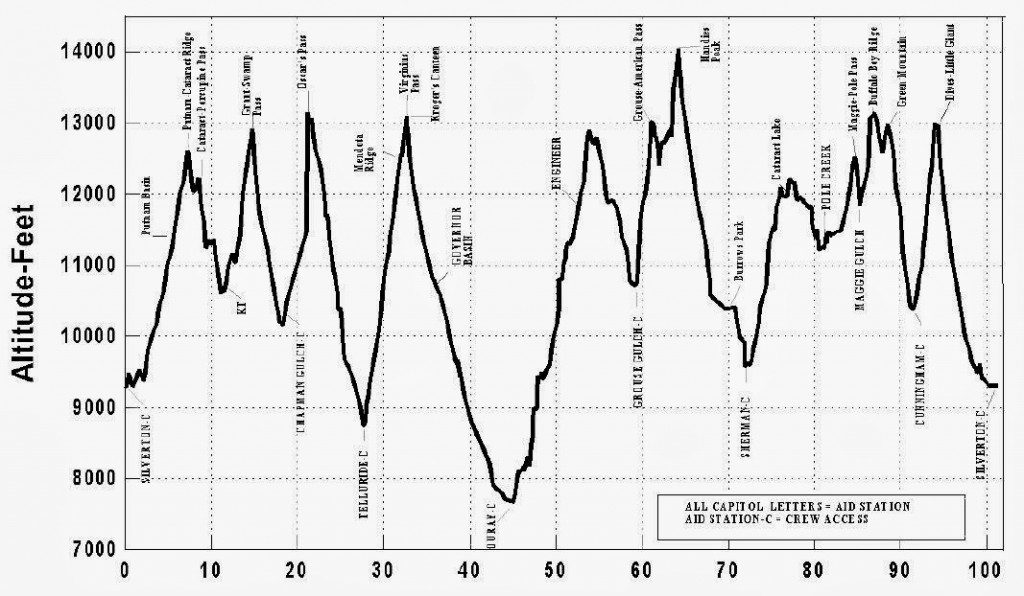 The single track from the top of Oscars to Telluride is just perfect, any route you decide to explore out of Telluride will be insane, but on this day I floated above the rocks n roots, just soaking in the sun and letting the race unfold naturally. I had no plans of chasing anyone yet. I was just sticking to my run and trying to soak it all in; I was finally running the Hardrock 100! I've waited for this day for years.

I ran out of water 4 miles out, but was not too concerned as I just took it a little easy and planned to drink plenty down low. I passed Dakota who was limping and asked if he was ok. I like Dakota a lot, and I was really concerned for his day. He was shaking it off – a crappy ankle tweak that he would run on for the next 30 miles before dropping at Grouse- but as soon as I got to Telluride, I told my wife Krista to get an Active Patch for him and to tell him to just believe in it and keep running. I restocked my pack and was off. Thinking about it now, I should have taken a few more minutes down low in the oxygen, drinking some yummy water, this could have helped, but apparently I wanted the ultimate first Hardrock experience.

I started the climb out of Telluride (mile 27.5) and knew I needed to take this climb a little easy. I got into a nice/slow rhythm as Dakota, Seb, Joe and Scott all passed me on this climb. Every step up, I felt more and more off. I took in some extra VFuel gels to hopefully boost my steps, but nothing seamed to help. I figured the altitude was just being a booger and if I got lower things would start to turn around.

I wish I could have enjoyed Kruggers canteen at the top of Virginus pass a little more, but I was delirious and feeling just plain worked. It's interesting that I started feeling so bad so soon. I did a few big mountain training days faster and longer than what I had raced so far with no ill side effects of altitude. I was sleeping in an Hypoxico altitude tent and feeling quite comfortable up high; things just got weird on this particular day and so it goes. I had a quick drink up top and was off down the snow shoot. I pulled my arm sleeves down over my hands so I could use the rope to descend down. The snow was freezing, but I was ok with it as I thought the cold might wake me up and I could start functioning normal again. Nothing changed as some days that's just how it rolls.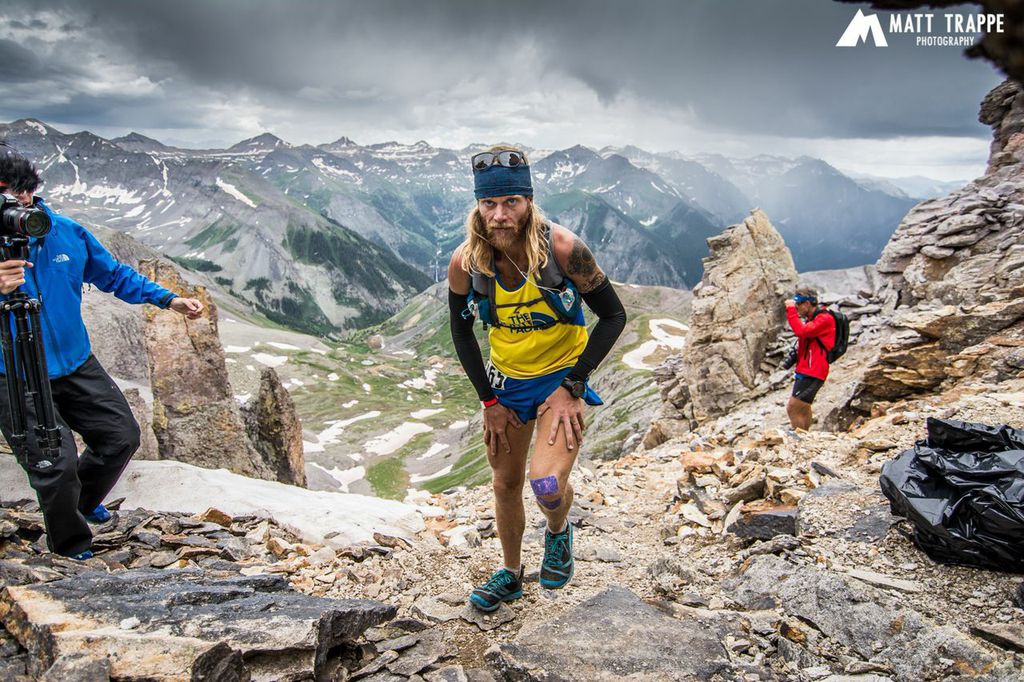 Virginus. Photo by Matt Trappe

I passed through Governor basin (mile35) aid station quick with hopes of continuing the long decent into Ouray which had an abundance of oxygen waiting for me (Ouray was the low point of the course at 7800ft and mile45). I threw up a few times along Camp Bird Road trying to not be to frustrated with whatever was happening and just trying to embrace the moment as it was. I wasn't sure how I got this way so quick, but after more throwing up several different colors, I realized I wasn't digesting anything I ate. I was walking downhill with a bunch of cars kicking up dust in my face getting grumpier as I stumbled down. Let's just say, I was Hard Rocked good but with thoughts of turning this around and cranking in the second half of the course. There was plenty left, I just needed to turn this around.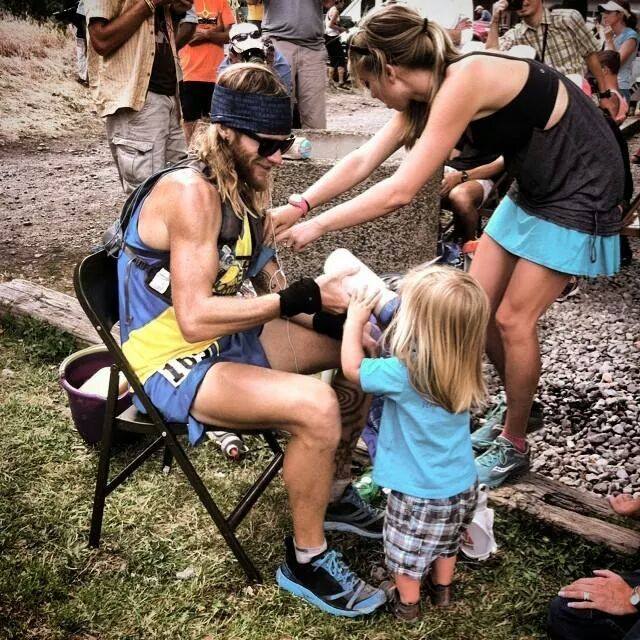 Ouray. Photo by Michael Hudson
I stopped in Ouray for a bit to try to regroup and get some calories in. I drank some sprite and water and said hi to my wife and son who were cheering me on. There was a lot of commotion happening there so I decided to move on. I picked up my trusty pacer, Chris Rennaker and we carried on. Not thinking clearly, I wasn't coherent of what was going in my pack and we forgot to pack PocketFuel , just gels which wouldn't work for me for the remainder of my time out there. The next 1.5 miles took us about 1.5 hrs, so as you can tell, I was moving good. We came to a short little climb that would take us up and over the road to the amazing Bear Creek trail that would lead to Engineer pass, this is where I stopped.
Photos by Rennaker
I couldn't breath, I couldn't move another step. It was like Ouray was out of oxygen, which didn't matter as my lungs and diaphragm froze up and seized working. I felt miserable and that's sugar coating it. I didn't know what to do, I wanted to quit, but quitting would have taken more energy than I had at that moment so I sat on a stump. Then I crumbled to the ground for a wee bit. Then I got up, went potty, proceeded to face plant on the aforementioned rancid pad that was waiting for me all morning.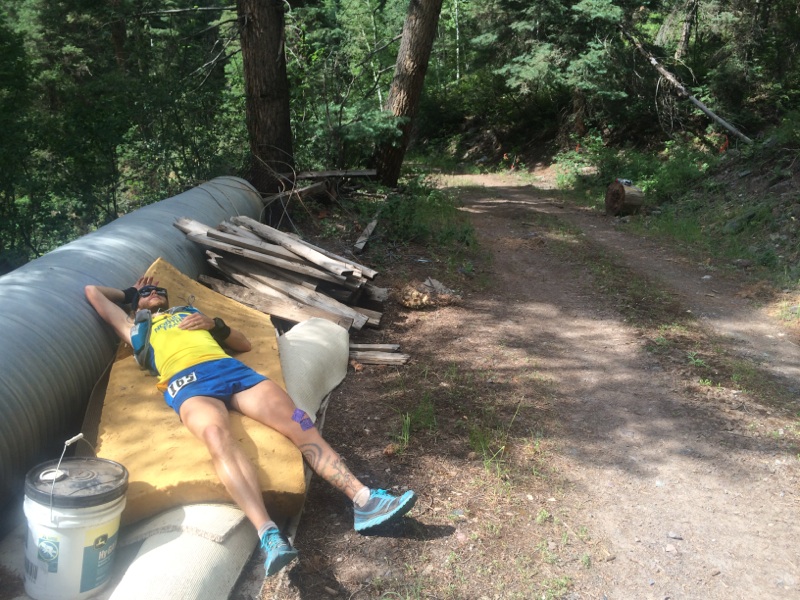 Have I mentioned I found a nice pad?! Photos by Rennaker
 Actually it might have been waiting there for a few years and I wasn't the only animal that has used it, I'm just the only one that decided not to pee on it and call it my home. This is when shit gets good and real as this was turning into one hell of a day. I planned for some really good low patches, suffering and what not, but this day was really ripping me down. I realized out there once again that I don't run to win, if I did I would have stopped this silly sport years ago. I really love what I do and even in hard conditions I see it as an opportunity to go beyond what I thought possible and a chance to be the best possible version of myself even if that version is resting on a pee stained mattress. Sometimes it gets uncomfortable but that's precisely the moment I'm looking for. I train for these hard as hell moments, yes I work hard and would like to do my best, but I train for when times get tuff and I feel like giving up. It's all worthwhile and I'm just grateful that I have the opportunity to take myself on these journeys.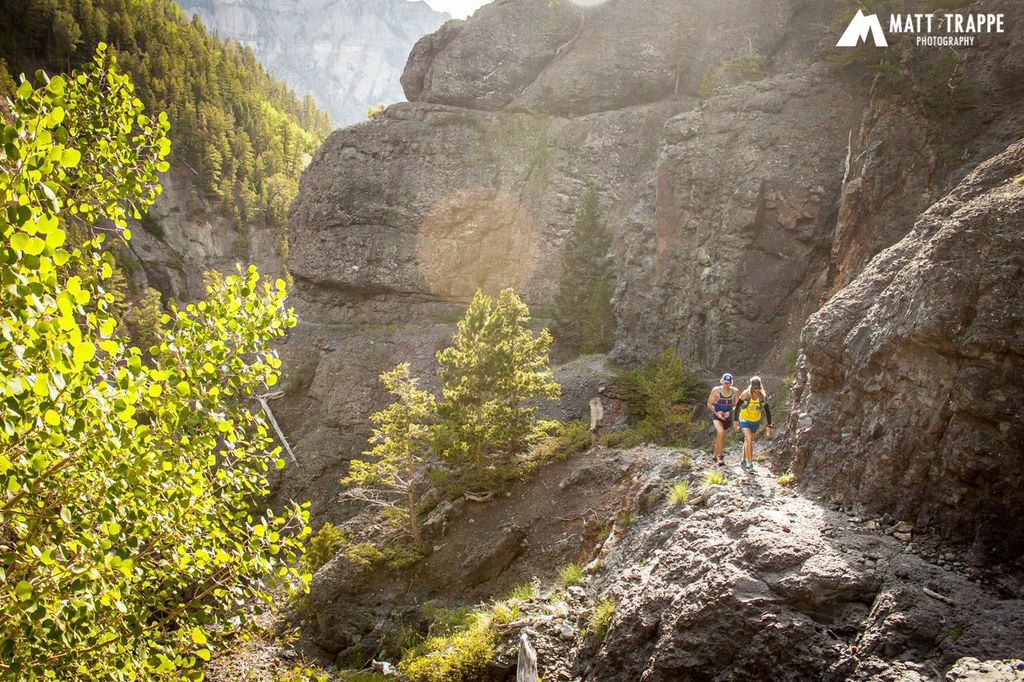 Photo by Matt Trappe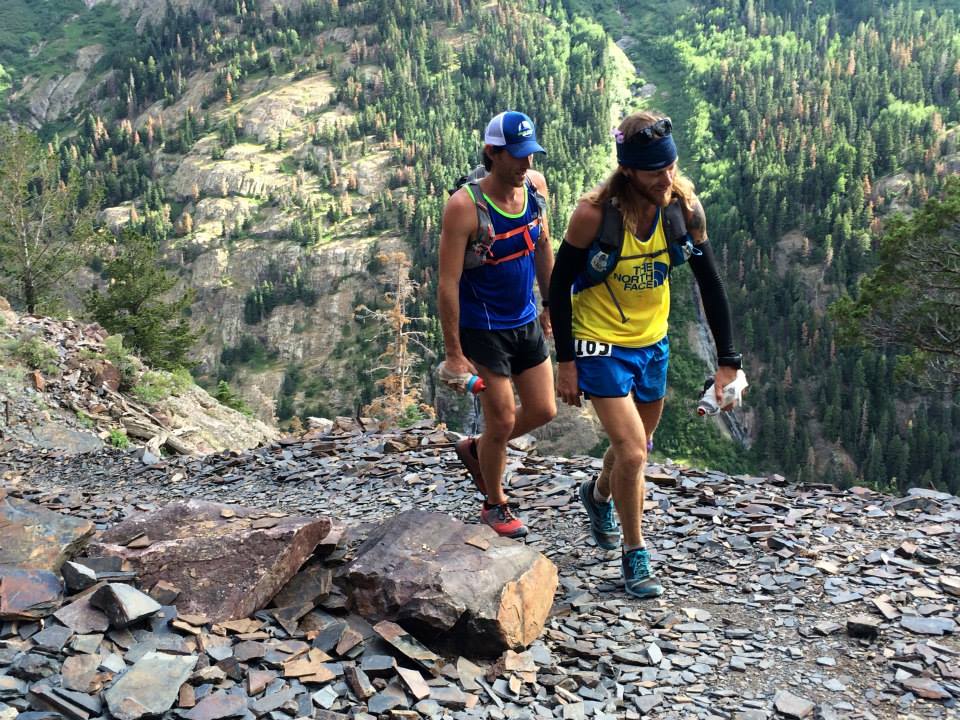 Photo by Kara Teklinski
Slowly we continued on. More people passed us with words of encouragement and some suggestions. We were out of water hours before coming to the next aid, so we drank from the roaring streams pouring over the mountains and it tasted so good. So good in fact that I tried another gel. A few minutes later I was down on the ground again after another throwing up episode. Ok, no more gels for me. I was low; the plan was to get to Grouse Gulch, sit and get mind straight. We somehow made it to Engineer (mile 52) where the local cross-country team was ready to get me fueled up and ready to go. This is where I found the sacred Fritos.

I didn't want anything, but I knew I needed to get something down, not to continue running, but just to get down off these mean mountains and decide my next move. I sipped on some sprite and nibbled on Fritos, warming my legs and spirit by the crackling fire. I almost felt normal, really out of it still but comforted by the jolly volunteers and some food staying down. I wanted to stay there the rest of the night, but we knew we needed to march on. Some fellow Hardrockers including my new friend, Stuart Air, joined us as we climbed up and over Engineer Pass. Their company was uplifting and kept us marching.

Almost to the top we all turned around to one of the most beautiful sunsets. It was a spectacular goodbye to the first half of the course with the sky flaring bright reds out of the mountains below. Within seconds, while enjoying the last glimpse of the sunset we were snapped back to reality with the loud cracks of thunder and fireworks display of lighting striking our path up ahead. The electricity jump started my head and legs as I instantly had energy for the first time in about 8 hours. I hiked up quick turning around frequently to get my fellow companions to keep moving. The defining thunder and bolts of lighting shocked me to my knees a few times. It was so fing close, we needed to get down quick!

It was raining hard, blinding our views as the sunset dissolved behind. I got over the hump with the electric mountains still in a blaze of thunder and lightning, telling me to get my butt down quick. I forgot we were in a race, my pain disappeared and I bombed down the dirt road trying to navigate through the storms calamity.

Renn's been waiting for my slow ass all day and now I would have no problem clicking off 6 min miles, where the hell was this on Camp Bird? Apparently I like my life and did not appreciate the idea of being struck by the ever present lighting cracking all around. We finally got down a few thousand feet where I could almost breath again, I turned to Renn and thanked him for making it through with me. Those were some memories and I'm grateful to have shared those and survived them with my good friend.

The lighting redirected it's war path to Handies 14000ft peak, I commented on those poor unfortunate fast souls over yonder. We were almost to Grouse Goulch (mile 59) and ready to call it a day or at least curl up in a warm sleeping bag, nibble on some fritos and contemplate my insanity. Entering the aid station I was very grateful to see my wife and kissed her immediately. That's all that mattered at this point, I was just so happy to see her and be alive. I figured she saw the fireworks display and would be ok with me calling it a day and going back to Silverton to snuggle in our warm bed…I was wrong.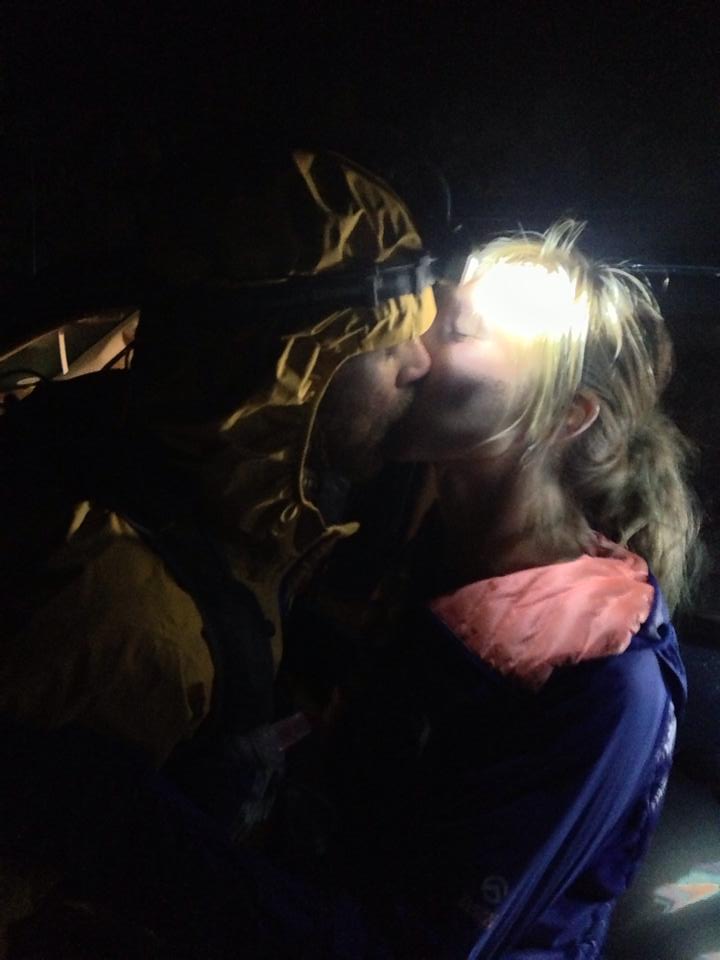 Photo by Dominic Grossman
She was having none of my whimpering and after she knew I was ok, was ready to ship me on out – back to the storm. I crawled into a warm car and started to rip off my soaked clothes and shoes.

"Oh, hi Dakota and Skaggs, what y'all doing here, do you have fritos?"

Dakota's ankle was a balloon and not runnable anymore which was a huge bummer as I figured he had the best chance out of any us to hang with Kilian. Julian, Adam and Bronco did a standup job for the day and had really impressive runs to Kilian's unwordly performance – great job guys! Most times races don't go as planned and I'm sure Dakota and I will both be back at some point to give this loop another go. But at this moment we were just two dudes rocked by the days circumstances and bumming some heat from this nicely positioned vehicle as our fortress. I did not want to get out.

I starred into space muttering nonsense between mouthfuls of yummy EPIC bar goodness (bison/bacon/cranberry bars of heaven) and of course my new found love, fritos. I was completely out of it and tried to make myself inconspicuous to my wife who had this crazy notion of sending me back out into the cold. Not knowing the correct phrase to make this day come to an end, I was somehow persuaded to carry on.

My wife was on a mission to get me out and somehow managed to squeeze more clothes on me than I wear in the winter. My pack was packed with EPIC bars, PocketFuel and fritos, so I was good to go. I had on my Verto-puffy coat and my father in-laws thick rain coat, to accompany my arms selves and a few other layers. They somehow even smooshed a poncho in my pack. A little unnecessary, but if I ended up throwing up again and curled up on the ground, it could have been life saving. It was wild out there.

My GPS and good buddy Jamil Coury took over pacing duties as we took off into the night with just a little more bounce in our step. Those next 15 minutes felt great! Then it clicked back in that I had many more hours left with legs and a spirit that were still crushed. That's what I'm talking about! Yup, it's not going to be easy but I signed up for Hardrock 100 and it's not suppose to be. Dakota and I repeated that phrase #thatswhatimtakingbout over and over on a 9 hour hike/run together a few weeks earlier as he told me tails of Hardrock from years past. And that's Hardrock, a great community of passionate and spirited individuals that care more about there fellow man/women finishing the loop than themselves. It's the type of community I like to surround myself with, letting that selfless love and compassion seep into myself so I pump out love and joy in everyday life. Ultra running epitomizes this.

So with a heart full of gratitude and legs that really didn't work I pressed on. The Hardrock spirit flowed in me and I put on some tunes from one of my favorite artist from back home in Ashland. Cornflower, who has some of the most soulful and creatively inspiring music I know. I put on one of my favorite tunes, "Heartshine" and continued to put one foot in front of the other. Letting your heart shine, to me, is what ultra running is all about. The volunteers, your crew, the RD's, your pacer, the towns, the mountains, the forest, the animals, is all apart of the whole and the more love that goes around just makes everyone's hearts and souls shine. That's why I run and that's why I continue on when times get rough. Let us continue.

Getting up n over Handies was not easy and even with all my layers I was still freezing. No lighting on the peak, just cold rain and wind. I stumbled my way down with numb uncoordinated feet, I felt like I was running for the first time. It was awkward, I felt sorry for Jamil having to witness this and I felt sorry for myself as Jamil was catching most of this on his GoPro. Don't worry, you'll get to see it below.

We got down to Burrows Park (mile 71) and warmed up in the tent. I munched on some bacon and yup, you guessed it, fritos. We continued on some flat dirt road miles, where Jamil just ran a head and I tried to keep up, wheezing in the background. We made it over to Sherman aid (mile 74) and I found a comfy seat.

As any racing was done a while back, I fully took advantage at all proceeding aid stations. I didn't really eat anything besides a sip or two of Sprite in route so when I came to an aid station I would sit down, enjoy a cup of tea and some bacon, potatoes and eggs if they had it. Besides fritos, that's all that really sounded good. I was pretty over sugary substances, I wanted fat and protein; I didn't move fast, but I kept the little bit I did eat down, so that was good and the sustenance kept me moving forward.

Not much to write home about for the next 20 miles or so, they just hurt (I wrote more about it, but it bored me so I saved you the time by clicking delete). I tried to remain positive, I focused on transforming my suffering into consciousness, reminding myself to stay present and enjoy each moment. Let's just say, I've had better zen moments, but I didn't complain too much and we kept moving. Sunrise would be upon us soon and Kilian was probably smooching a rock, one I would hopefully kiss too, just 7+ hours later.

I started getting a little altitude drunk, rambling off non-coherent sentences that were funny to probably just me, poor Jamil. I literally stumbled my decomposing body down to Maggie's Gulch (mile 85) and ate some eggs n potatoes and then we climbed, it felt like slow motion, like time was frozen and each step took minutes.  The sun was coming out, but I was too lazy to take my coats off, so I sweat and that felt good. My bones still felt frozen, my feet felt pruney and we climbed on into the next day.

Somehow we made it down to Cunningham (mile 91) to my crew, I'm not sure how. The descent was pretty comical as I didn't have much control of my quads at this point. Almost down, they just sort of gave out and I would fall, tuck and roll, it didn't hurt because I was moving so slow, if anything it might have sped up the process.

Seeing my wife and son was such a welcome sight, I teared up as I approached them, it felt like I was out there for years. I was so happy to see my crew and finish this thing off, for the first time in many many hours, I finally felt like I was going to finish. I ripped off my coats and ate another EPIC bar, washed it down with some fritos and asked my wife if she wanted to pace me in. She said yes!

Having her join my side made me feel like I just woke up and it was a brand new day; just a normal beautiful day where I wake up with the sun shinning, some amazing grandparents there to take care of Tristan and we can enjoy a nice little run-date together. This was perfect. I'm so blessed to have such amazing family and friends that took care of me these last few days and there was a finish line within grasp.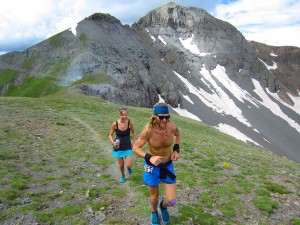 Photo by Buzz Burrell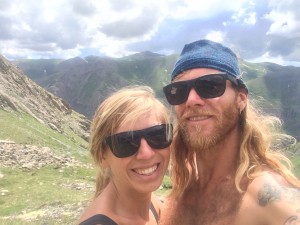 Selfie on Little Giant

We started our hike up, just chatting and catching up, these were some of my favorite miles. Little Giant is not so little, but I was just there soaking it all in, I guess I found my zen moment in all it's peaceful glory. Sometimes you don't know where you'll realize it, you're just caught up in the moment and it all just seems so simple, not running, just life. Running for a really long ways really makes this clear, I guess that's why I like it. You should do what you love even if some people find it odd. Happiness is right there, you just need to realize it's been there the whole time. Then bam, every moment is bliss and then running for a few days – through storms, bouts of vomit, living off fritos, laying on a rancid pad down by the river, just seems glorious. I like it, I'm weird, life's an incredible journey and I'm grateful for every moment in it.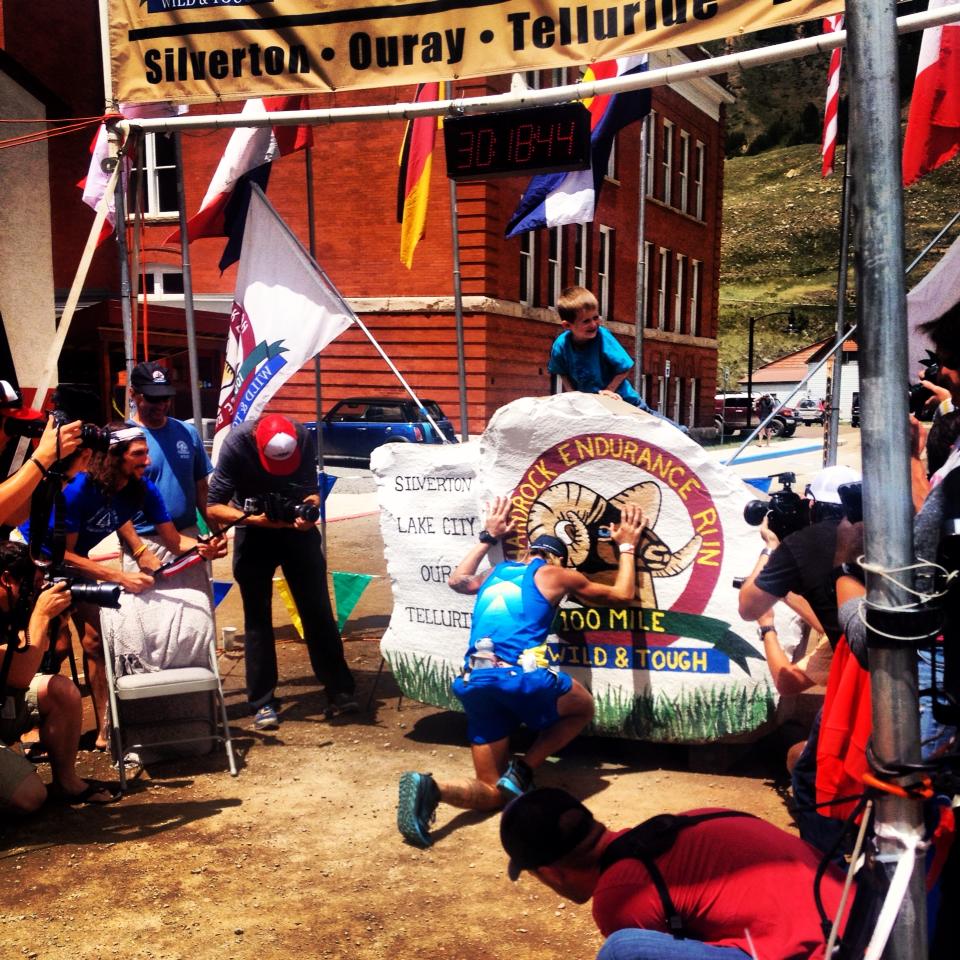 Photo by Britt Dick
Some 30 hours later I arrived back to Silverton, a little malnourished, discombobulated, but content, satisfied and ready to kiss that rock. I couldn't have done it with out all the amazing support I'm blessed to have, we all did it and I'm very grateful. Thank you to our team of Krista, Tristan, Bob and Debbie, Mark and Maxeen, Hannah and Grace, Renn dawg, Jamil and Sabrina and Dom and Katie; thanks for leading me home. There were many moments I didn't think this was going to happen, but you all made it possible.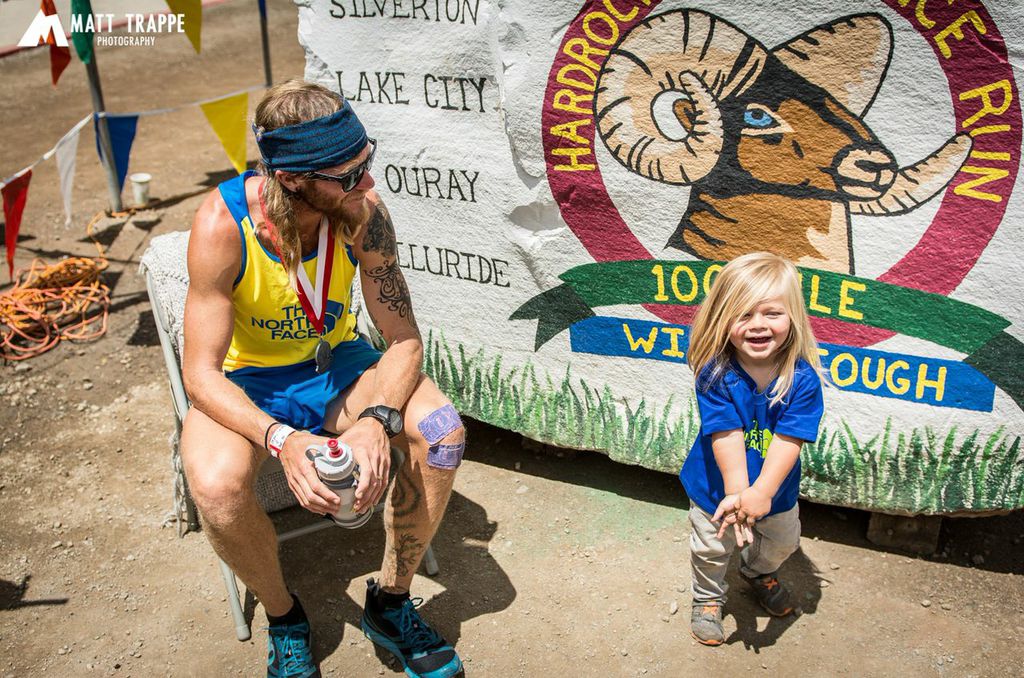 Photo by Matt Trappe
A huge thank you to all the organization and volunteers that made this possible, it's a special feeling to be a part of the Hardrock family, I'll be back for more fun. Congrats to all the finishers and people who attempted the course but couldn't make it this time. Everyone out there makes this one special place to be.

Thank you to my sponsors who make this all possible. It was great to see my EPIC Tribe, VFuel family and Dylan from Hypoxico out there cheering me on, that means so much. Thank you to The North Face, Natura Health Products, EPIC Bars, PocketFuel, VFuel, Injinji toe-socks and Hypoxico Altitude training systems for making my dreams come true.
Here is a video of my journey in the San Juan's, it was EPIC.
A huge thank you too my Father and mother in-laws who worked so hard to put this all together. Also Thanks for all the extra footage from Jamil Coury. And a specail thanks to my good friend who made te amazing song, Heartshine which brings the video together. Much Heartshine went into making this all be. I am grateful.
ACEPTACION
Traducción por corrextuvida.com – muchas gracias!
"Si hay luz en tu corazón, encontraras el camino a casa" – Rumi
Aceptar mi propia mísera mientras estaba tirado junto a una pila de chatarra sucia y abandonada junto al rio fue una de las cosas más difíciles a las que tuvo que enfrentarse mi mente. "Que mierda había sucedido?!", me preguntaba a mí mismo mientras intentaba volver de la muerte sin éxito aparente, abrazado a mi pila de chatarra. Me sentía como Steve Martin en the Jerk – No necesitaba nada, solo mi nueva y querida pila de suciedad y no iba a separarme de su confiable comodidad.
Todavía no estoy seguro de cómo me puse de pie, supongo que mi esposa me insistió, comencé a moverme y vomite….mucho! Eso me permitió que pudiera respirar mejor y de alguna manera aliviar el dolor que sentía en el pecho. Me sentía como si alguien me hubiese clavado su codo en el esternón, no dejando que el aire llegue a mi cerebro donde todo ya se veía nublado y surrealista. Vomitar me ayudó mucho, repetí esta acción algunas veces más subiendo a Engineer Pass a 13.000ft, esta rutina de vomitar había comenzado poco después de Virginus Pass y por un consumo inoportuno de Red Bull.
Desechando todo lo que había consumido en mis primeras ocho horas de carrera ayudo a mi estómago y a mi cabeza, pero mis piernas tenían poca energía y ya estaba bastante harto de esa idea de que las "bellas" montañas son algo hermoso para ver. Tirar la toalla parecía fácil, era claramente lo que había que hacer ya que mi día estaba terminado y no podía ni siquiera pensar en arrastrar mi cuerpo a través de ninguna otra "bella" montaña. Seguramente las montañas de San Juan son magníficas y hermosas, pero  también son malignas e implacables. Así que, hablemos de eso……..
PHOTO (FOTO) Early on (Temprano) Photo by Kara Teklinski
Comencé mi día como cualquier típica mañana. Comiendo algunos PocketFuel nut-butter y atando los cordones de algunas zapatillas para terminar de prepararme para una épica aventura en las montañas. Desde Silverton un grupo de legítimos y aspirantes a Hardrockers comenzaron a correr.  Nuestro ritmo era pausado, nuestra moral alta y con la mirada puesta en el viaje que íbamos a realizar. Tome parte en una pequeña conversación pero más que nada me hacía gracia que los cuatro tíos con los que estaba hablaban en francés (Dakota está aprendiendo, pero Kilian, Julien y Adam todos hablan francés fluido). Es un lenguaje hermoso, pero todo lo que se decir es merci y alguna que otra palabra para entrar y salir de las estaciones de avituallamiento. Así que me relaje, deje que ellos gasten su oxígeno y me dedique a escuchar al rio que me hablaría durante los próximos días. El rio habla muchos idiomas, pero para mí son más que nada risas.
En muy poco tiempo estábamos subiendo y bajando el Grant Swamp Pass (13km/milla15) por encima del lago de la isla se elevaban las montañas y reflejaban sus picos en el agua cristalina del lago. Me sentía increíble, asombrado por esas gloriosas montañas que nos rodeaban y  por correr en esa mañana junto con grandes amigos. Llegamos al paso y deje que Kilian se tirara por el desfiladero antes que yo. Sé que le gusta bajar como si tuviese unos esquís, así que lo deje que se deslizara hacia abajo dejándole un margen para que no le caiga ninguna piedra en mi descenso. Baje también como si estuviera esquiando por el desfiladero, con Julien pegado a mis talones. Bajamos en segundos, paramos para quitarnos las zapatillas y vaciar la pila de rocas que teníamos dentro y seguimos nuestro camino.
PHOTO (FOTO) Island Lake (El lago de la isla) Photo by VFuel
Después disfrutamos de un hermoso y pequeño camino hasta Chapman (milla18) y de ahí subiendo hasta los 4.000fs al Oscar Pass (milla21) antes de bajar a Telluride. Todo es increíble, estas vistas eran tan espectaculares como mi moral durante estas primeras millas. Subir el Oscar fue un alivio, repase el recorrido mentalmente, tachaba un pico más en lo que yo creía que sería un buen día en las montañas. Fui tan ingenuo, tan joven, tan inocente, ojala pudieran llevarme de nuevo a ese momento.
PHOTO (FOTO) Altitude-Feet
El camino desde la cima de Oscar hasta Telluride es perfecto, cualquier ruta que quisieras explorar en Telluride sería una locura, pero en este día me sentía florar en el camino pasando por arriba de rocas y raíces, simplemente sumergirse en el sol y dejar que la carrera fluya naturalmente. No tenía el plan de perseguir a nadie aun. Solo seguía mi plan de carrera y tratar de estar lo mejor posible. Estaba por fin corriendo la Hardrock 100! Había esperado este día durante muchos años.
Me quede sin agua a las cuatro millas, pero no estaba muy preocupado ya que había bajado un poco el ritmo y tenía pensado tomar mucha más abajo. Pase a Dakota que estaba cojeando y le pregunte si estaba bien. Me cae muy bien Dakota y estaba muy preocupado por el día que  tenía. Estaba intentado seguir – se había doblado el tobillo y continuo corriendo durante 30 millas hasta abandonar en Grouse – en cuanto llegue a Telluride le dije a mi esposa que tomara un ActivePach para él y que le diga que tenga confianza y que siga corriendo. Rellene mi mochila y seguí adelante. Ahora que lo pienso, debería haberme tomado algunos minutos más intentando tomar más oxígeno, tomar algo de agua yummy, esto podría haber ayudado,  pero aparentemente yo quería el tour extremo del debutante en Hardrock.
Comencé a subir Telluride (milla27) y sabía que tenía que tomarme esta ascensión con calma. Puse un ritmo cómodo y calmado mientras Dakota, Seb, Joe y Scott me pasaban en esta subida. Cada paso que daba hacia arriba me sentía peor y peor. Me tome algunos VFuel Gels de más para ver si con suerte me ayudaban en la subida, pero nada parecía ayudar. Imagine que la altitud estaba siendo muy pesada y que si bajada las cosas mejorarían.
Me hubiese gustado disfrutar un poco más de la cantina de Kruggers en la cima del paso Virginus, pero estaba delirando y me sentía agotado. Es interesante que me haya empezado a sentir mal tan rápido. Había hecho algunos entrenamientos de alta montaña más rápidos y largos de lo que venía corriendo hasta ahora sin ningún efecto secundario o problema de altitud. Estaba durmiendo en una carpa especial de altitud de Hypoxico y me sentía bastante bien en altas alturas, las cosas de torcieron en este día en particular y así continuaron. Tome algo rápido en la cima y enseguida comencé el descenso hacia la nieve. Me cubrí las manos con mis mangas para agarrar la soga que me ayudaría a descender. La nieve estaba congelada, pero no me preocupaba ya que pensaba que el frio me despertaría y podría volver a funcionar normalmente. Nada cambio, algunos días vienen torcidos y eso es todo.
PHOTO (FOTO) Virginus. Photo by Matt Trappe
Pasé por la estación de avituallamiento de la cuenca de Governon (milla35) rápidamente con la esperanza de continuar mi descenso hasta Ouray que me esperaba con gran cantidad de oxigeno (Ouray era el punto más bajo de toda la carrera a 7800fs en la milla45). Vomite un par de veces junto a la ruta de Camp Bird, trataba de no sentirme frustrado por lo que sea que estaba pasando en mi cuerpo y solo intentaba asimilar la situación lo mejor que podía. No estoy seguro de como llegue a sentirme así de mal tan rápido, pero después de vomitar varias veces y con varios colores distintos, me di cuenta de que no estaba digiriendo nada de lo que comía. Estaba caminando cuesta abajo junto a algunos autos que me echaban el polvo en la cara al pasar, poniéndome un poco de mal humor mientras continuaba bajando a los tumbos.  Digamos que, fui bastante "Hard Rockeado" pero siempre con el pensamiento de poder dar vuelta la historia y arrancar de nuevo en la segunda mitad de la carrera. Todavía quedaba mucho, solo necesitaba dar vuelta la historia.
PHOTO (FOTO) Ouray. Photo by Michael Hudson
Me detuve en Ouray por un momento para reagruparme e ingerir algunas calorías. Tome un poco de Sprite y de agua y salude a mi esposa y mi hijo que me estaban alentando. Había mucha conmoción alrededor así que decidí moverme. Recogí a mi leal pacer, Chris Rennaker y continuamos el viaje. No pensaba claramente en ese momento, no estaba seguro de lo que había en mi mochila y nos olvidamos que llevar un pack de PocketFuel, solo tenía geles, que no me iban a servir durante el tiempo que estuviese ahí fuera. Las siguientes 1.5 millas nos costó recorrerlas casi 1.50 horas, como podrán ver, me estaba moviendo realmente bien, verdad?!. Llegamos a una pequeña cima que nos llevaría por encima y a través de la carretera hacia el maravilloso Bear Creek trail que nos conduciría a Engineer Pass, aquí es donde me detuve.
PHOTO (FOTO) Photos by Rennaker
No podía respirar, no podía dar ni siguiera un paso más. Era como si todo Ouray se hubiese quedado sin oxígeno, cosa que en realidad no importaba ya que mis pulmones y mi diafragma estaban congelados y dejaron de hacer su trabajo. Me sentía miserable y es solo por ponerle una palabra. No sabía qué hacer, quería abandonar, pero ni siguiera podía hacer eso ya que no tenía nada dentro de mí en ese momento, así que solo me senté en un tronco. Después me derrumbe al suelo solo por un momento, me levante, fui al "baño" y me acosté en la anteriormente mencionada pila de chatarra sucia y abandonada que había estado esperándome toda la mañana.
PHOTO (FOTO)
Have I mentioned I found a nice pad?!  (Les había mencionado que encontré una linda pila de chatarra?!) Photos by Rennaker
En realidad puede que haya estado esperándome hace ya muchos años y yo no era el único animal que había estado usándola. Solo era el único que había decidido no mearla y llamarla mi hogar.
Aquí es cuando esto realmente se vuelve una mierda total y este día se convierte en un infierno. Viví algunos momentos realmente malos, sufrí y muchas cosas más, pero este día realmente me estaba partiendo a la mitad. Me di cuenta, una vez más, estando ahí tirado, de que no corro para ganar, si así lo hiciese habría dejado de practicar este tonto deporte hace años. Realmente amo lo que hago y aun con condiciones desfavorables siempre lo veo como una oportunidad de ir más allá de lo que creía posible y una chance de ser la mejor versión posible de mí mismo, aun cuando esa "versión de mi mismo" está descansando en un colchón abandonado y con manchas de meadas. A veces las cosas se vuelven incomodas pero es precisamente ese momento el que busco. Entreno para enfrentar esos momentos duros y endemoniados, así es, entreno duro y me gusta dar lo mejor de mí, entreno para cuando la cosa se pone dura y para cuando siento que ya no puedo más. Todo esto vale la pena y soy un agradecido por poder tener la oportunidad de vivir estas historias.
PHOTO (FOTO) Photo by Matt Trappe. Photo by Kara Teklinski.
Lentamente continuamos. Más gente nos adelantó con palabras de aliento y algunas sugerencias. Nos habíamos quedado sin agua muchas horas antes de llegar al próximo avituallamiento, así que bebíamos de los pequeños arroyos que bajaban rugiendo desde las montañas y el agua era riquísima. Era tan rica que hasta me anime a tomar otro gel. Unos minutos después estaba tirado en el suelo después de haber vomitado, una vez más. Ok, basta de geles para mí. Estaba bajoneado, el plan era llegar a Grouse Gulch, sentarse y acomodar los pensamientos. De alguna manera llegamos hasta Engineer (milla52) donde el equipo de cross-country local estaba listo para darme la energía que necesitaba  y salir al ruedo. Aquí es donde encontré los sagrados Fritos.
No quería comer nada, pero sabía que tenía que ingerir algo, no para seguir corriendo, sino solo para bajar de estas malditas montañas y decidir mi próximo movimiento. Tome unos sorbos de Spirte y mordisquee algunos Fritos, calenté mis piernas y mi espíritu junto al chisporroteante fuego. Casi me sentía normal, realmente fuera de foco, pero aun así me sentía confortable rodeado de amables voluntarios y con un poco de comida en mi estómago.  Me quería quedar ahí por el resto de la noche, pero sabía que teníamos que marcharnos. Algunos amigos HardRockers, incluido mi nuevo amigo, Stuart Air, nos acompañaron mientras subíamos y cruzábamos el Engineer Pass. Su compañía era una subida de moral y nos mantenía en marcha.
Casi en la cima, todos nos giramos hacia atrás para ver uno de los más lindos atardeceres. Era un adiós espectacular a la primera mitad de la carrera con el cielo en llamas rojas y por debajo las montañas. En solo segundos, mientras disfrutábamos de los últimos rayos de sol, volvimos a la cruda realidad cuando un gran trueno rugió y los relámpagos resplandecieron como fuegos artificiales en el camino que deberíamos tomar más adelante. El golpe de electricidad hizo arrancar a mi cabeza y a mis piernas como si instantáneamente tuviese energía por primera vez en las últimas 8 horas. Camine hacia arriba rápidamente girando cada tanto para ver que mis compañeros seguían el ritmo. Los terribles truenos, rayos y relámpagos me sacudieron hasta las rodillas en más de una vez. Estaban realmente cerca, teníamos que bajar rápido!
Llovía duramente, mientras el atardecer se desvanecía a nuestras espaldas. Supere el bache de las montañas eléctricas aun con el resplandor de los rayos, relámpagos y  truenos, que me decían que sacara mi culo de allí rápidamente. Me olvide de que estábamos en una carrera, mi dolor desapareció y me precipite hacia ese camino de tierra que bajaba mientras intentaba no perderme a causa de esa terrible tormenta.
Renn había estado esperándome a mí y a mi lento culo durante todo el día y ahora no tendría ningún problema en hacer 6 minutos por milla, pero donde diablos estaba este Camp Bird?! Aparentemente me gusta mucho mi vida y no me gustaba nada la idea de ser alcanzado por algún rayo de los muchos que había alrededor. Finalmente bajamos algunos cientos de pies donde casi podía respirar aliviado nuevamente, me gire hacia Renn y le agradecí por haberme acompañado. Esos son recuerdos que me alegra haber compartido y haber sobrevivo junto con un buen amigo.
Los rayos redirigieron su furia hacia el pico de Handies 14.000fs. Recordé a esas pobres almas que había corrido más rápido y estaban mas adelante.  Estábamos casi en Grouse Goulch (milla59) y listo para tirar la toalla o como minimo acurrucarme dentro de un cálido saco de dormir, comer algunos Fritos y contemplar mi locura. Al entrar al avituallamiento me alegre mucho de ver a mi esposa e inmediatamente la bese. Eso era todo lo que importaba en ese momento, estaba tan feliz de verla y de estar vivo. Me imaginaba que ella había visto la tormenta, los rayos y los truenos y que estaría de acuerdo conmigo en que había que tirar la toalla, abandonar y volver a Silverton para acurrucarnos en una acogedora cama………Estaba equivocado.
PHOTO (FOTO) Photo by Dominic Grossman
A ella no le importaban mis lloriqueos y en cuanto comprobó que estaba bien ya estaba lista para mandarme ahí fuera nuevamente – de vuelta a la tormenta. Me arrastre hasta el interior de un cálido auto y comencé a quitarme la ropa mojada y las zapatillas.
"Oh, hola Dakota, hola Skaggs, que hacen por aquí, tienen algunos Fritos?!"
Dakota tenía el tobillo como un balón y le era imposible correr lo que significaba una gran desilusión ya que me imaginaba que tenía más chances que todos nosotros de correr junto a Kilian. Julian, Adam y Bronco hicieron un gran trabajo ese día y tuvieron una excelente carrera comparado con el rendimiento inhumano de Kilian – gran trabajo muchachos! La mayoría de las veces las carreras no salen como las planeamos y estoy seguro de que Dakota y yo volveremos algún dia para dar otra vuelta a este circuito una vez más. Pero en este momento solo éramos dos tios rockeados por las circunstancias del dia e intentando conseguir un poco de calor dentro de este lindo vehiculo que parecía nuestra fortaleza. No quería salir.
Comencé a murmurar tonterías mientras daba bocados a mi yummy EPIC bar goodness (bison/bacon/cranberry barritas del paraiso) y por supuesto, a mi nuevo amor, los Fritos. Estaba completamente fuera de la carrera y tratando de pasar desapercibido ante mí esposa que tenía la loca idea de mandarme de nuevo ahí fuera al frio. Sin saber la frase correcta que decir para que este dia se terminara, fui de alguna manera persuadido para volver continuar en la carrera.
Mi esposa tenía la misión de mandarme ahí fuera y de alguna manera se las arregló para meterme aún más ropa de la que uso en invierno. Mi mochila estaba llena de barritas EPIC, PocketFuel y Fritos, así que, estaba listo para salir. Tenía puesto mi chaqueta acolchonada de Verto y el corta viento impermeable de mi suegro, para acompañar a mis mangas y algunas otras capas de ropa.
Y de alguna manera hasta lograron meter un poncho en mi mochila. Un poco innecesario, pero si tal vez termino vomitando y tirado en el suelo hecho una bola, podría salvarme la vida. Ahí fuera el clima era salvaje.
Mi GPS personal y buen amigo, Jamil Coury, tomo su lugar como pacer y nos adentramos en la noche con un paso ligero. Los siguientes 15 minutos fueros geniales! Y entonces todo cambio en un clic y tuve muchas largas horas de piernas cansadas y espíritu triturado. Esto es a lo que me refiero! Sip, esto no va a ser fácil pero me apunte para la HardRock100 y no se supone que sea fácil.  Dakota y yo repetimos esta frase #estoesaloquemerefiero durante las 9 horas que corrimos juntos unas semanas antes mientras me contaba historias de la HardRock de años pasados. Y eso es la HardRock, una gran comunidad de individuos apasionados y espirituales que se preocupan más por que hombres y mujeres terminen la carrera que por ellos mismos. Es el tipo de comunidad del que quiero estar rodeado, dejar que ese amor desinteresado y esa compasión entren en mí y así poder devolver ese amor y esa alegría dia a dia. El ultramaraton es la personificación de este sentimiento.
Así que; con un corazón lleno de gratitud y unas piernas que realmente no funcionaban, apreté los dientes y seguí adelante. El espíritu de la HardRock fluía en mí y decidí escuchar algunas canciones de mi banda favorita de mi ciudad Ashland. Cornflower, tiene que yo conozco, las más poderosas melodías de soul y una creatividad inspiradora en su música. Puse una de mis canciones favoritas, "Herashine" y continúe poniendo un pie delante del otro. Dejar que tu corazón brille, para mí, es de lo que se trata el ultramaraton. Los voluntarios, tu equipo, los RD´s, tu pacer, las ciudades, las montañas, el bosque, los animales, son una parte del todo y mientras más amor allá alrededor hará que todos sus corazón y almas brillen aún más. Es por eso que corro y es por eso que sigo adelante aun cuando las cosas se ponen duras. Sigamos adelante.
Subir y atravesar el Handies no fue tarea fácil y aun con todas mis capas de ropa me estaba congelando. No había truenos en la cima, solo una helada lluvia y viento. Baje a los tumbos con pies descoordinados y adormecidos, sentía como si estuviese corriendo por primera vez en mi vida. Era vergonzoso, me daba pena que Jamil tuviera que ver ese espectáculo y me daba pena por mí ya que Jamil estaba grabando casi todo con su GoPro. No se preocupen, podrán verlo más abajo.
Bajamos hasta Burrows Park (milla71) y nos calentamos en la tienda del avituallamiento. Mastique un poco de Bacon y si, como imaginaran, Fritos. Continuamos unas millas por una ruta plana de tierra, donde Jamil tomo la delantera y yo trataba de seguirle el ritmo, silbando desde la lejanía. Logramos llegar hasta el avituallamiento de Sherman (milla74) y me encontré con un asiento realmente confortable.
Como lo de correr se había terminado hacía tiempo, me tome todas las ventajas posibles en los avituallamientos que seguían. Realmente no comí nada en el camino, solo algunos sorbos de Sprite, así que cuando llegaba al avituallamiento podía sentarme, disfrutar de una taza de sopa y un poco de bacon, patatas y huevos si es que tenían. Aparte de los Fritos, eso era lo que sonaba más apetitoso. Estaba bastante lleno de azucares, quería grasas y proteínas; no me movía rápido, pero por lo menos mantenía lo poco que había comido así que ese sustento me dejaba seguir moviéndome hacia adelante.
No hay mucho que escribir de las siguientes 20 millas más o menos, solo que me dolieron mucho (Había escrito algo, pero me aburría así que les ahorre el tiempo y lo borré) Traté de pensar en positivo, me enfoque en transformar mi sufrimiento en conciencia, recordándome a mí mismo de estar presente y disfrutar cada momento. Solo digamos que, he tenido mejores momentos zen, pero no me queje demasiado y seguí adelante. El amanecer estaba por caer sobre nosotros y Kilian probablemente estaba besando esa roca, roca que con suerte yo también besaría, unas 7+ horas mas tarde.
Empece a sentirme un poco borracho a causa de la altitud, divagando algunas frases sin coherencia que probablemente solo eran graciosas para mí, pobre Jamil. Literalmente baje a los tumbos con mi pobre cuerpo en descomposición hasta Maggie´s Gulch (milla85) y comí algunos huevos con patatas y después subimos, sentía como si todo se moviera en cámara lenta, como si el tiempo se detuviera y tardara minutos en dar cada paso. El sol estaba saliendo, pero estaba demasiado vago como para detenerme a quitarme un poco de ropa, así que comencé a sudar y eso me hizo sentir bien. Mis huesos todavía estaban helados, mis pies húmedos y mojados, así ascendimos hacia un nuevo dia.
De alguna manera llegamos hasta Cunningham (milla91) y hasta mi equipo, no estoy seguro de cómo. El descenso fue bastante cómico ya que no tenía demasiado control sobre mis cuádriceps. Casi al llegar abajo, simplemente dejaron de funcionar, caí de bruces al suelo y rodé, no me dolió porque me estaba moviendo tan lento que hasta tal vez la caída me allá hecho tener un poco más de velocidad.
Ver a mi esposa y a mi hijo fue un gran alivio, empecé a llorar mientras me acercaba a ellos, parecía como si hubiese estado ahí fuera durante años. Estaba tan feliz de ver a mi equipo y de terminar esta carrera, por primera vez en muchas muchas horas, finalmente sentía que iba a terminar. Me quite todas la capas de ropa y me comí otra barrita Epic, que baje con algunos Fritos y le pregunte a mi esposa si quería ser mi pacer. Me dijo que si!
Tener a ella a mi lado me hizo sentir como si recién me hubiese despertado en un nuevo dia; simplemente un hermoso dia normal donde me desperté con el sol brillando y unos suegros geniales que se quedarían con Tristan mientras nosotros disfrutábamos de una pequeña carrerita-cita juntos. Esto era perfecto. Estoy tan agradecido por tener tan asombrosa familia y amigos que me cuidaron estos días y ahí estaba la línea de meta al alcance de mi mano.
PHOTO (FOTO) Photo by Buzz Burrell. Selfie en Little Giant
Empezamos nuestra caminata hacia arriba, solo hablando y poniéndonos al dia, estas fueron algunas de mis millas favoritas. Little Giant no es tan pequeño, pero ahí estaba yo absorbiendo todo lo que me rodeaba, quizás había encontrado mi momento zen en toda su gloria pacífica. A veces no sabes cuándo te darás cuenta de eso, solo quedas atrapado en el momento y de repente todo parece tan simple, no solo correr, sino la vida. Correr por un largo largo tiempo a veces hace que todo se aclare, me parece que es por eso que me gusta. Deberías hacer lo que amas, aunque a algunas personas les parezca extraño. La felicidad está ahí, solo necesitas darte cuenta de que siempre estuvo ahí. Y entonces bam, cada momento es una bendición y entonces correr durante algunos días – a través de tormentas, ataques de vómitos, viviendo de Fritos, acostándose en una pila de chatarra sucia al costado del rio, simplemente parecía glorioso. Me gusta, soy raro, la vida es un viaje increíble y soy un agradecido de cada momento que paso en ella.
PHOTO (FOTO) Photo by Britt Dick
Algunas 30 horas después llegue de nuevo a Silverton, un poco desnutrido, trastornado, pero contenido, satisfecho y listo para besar esa roca. No podría hacerlo hecho sin todo el increíble apoyo que tuve la bendición de recibir, todos lo hicimos y estoy muy agradecido. Gracias a nuestro equipo de Krista, Tristan, Bob and Debbie, Mark and Maxeen, Hannah and Grace, Renn dawg, Jamil and Sabrina and Dom and Katie; gracias por llevarme a casa. Hubo muchos momentos en que no creí que esto fuera posible, pero todos ustedes lo hicieron posible.
PHOTO (FOTO) Photo by Matt Trappe
Un gran agradecimiento a toda la organización y a los voluntarios que hicieron esto posible, es un sentimiento especial ser parte de la familia HardRock, volveré por más diversión. Felicitaciones a todos los que terminaron la carrera y a todos lo que no pudieron terminarla esta vez.  Todos los que están ahí fuera hacen que este lugar sea un sitio especial para estar.
Gracias a mis sponsors que hicieron esto posible. Fue genial ver a mi tribu Epic, la familia VFuel, Dylan de Hypoxico que estuvo ahí fuera alentándome, significa mucho para mí. Gracias a The North Face, Natura Health Products, EPIC Bars, PocketFuel, VFuel, Injinji toe-socks and Hypoxico Altitude training systems por hacer mis sueños realidad.
VIDEO
Aquí hay un video de mi viaje por las montañas de San Juan, fue algo EPICO.
Un gran agradecimiento a mi suegro y mi suegra que trabajaron mucho para que todo esto salga bien. También un agradecimiento al material extra de Jamil Coury. Y un agradecimiento especial a mi buen amigo que hizo esta increíble canción, Heartshine que da música al video. Mucho Heartshine (corazón brillante) se puso para hacer todo esto. Estoy agradecido.