Setting the tone for 2015, I've already been hard at work doing 3 min repeats on a hill or inclined treadmill until I can't feel my legs anymore. It's been invigorating to push my body and mind with this exercise and experience. And so begins the curiosity of pushing my body in a new way and focusing more on quality over quantity to start my year of training. However, my love lies in mountain summits and weaving through forested and rocky single track as I explore my new backyard trail system in beautiful, snowy and sunny Boulder, Colorado. I'm learning to balance my obsession with the need for vert and miles and really focusing on intense quality days followed with some big ol' long runs in nature as those really set my spirit free. Balance, patience and self-control are the building blocks for a happy and healthy season of running.
This year my intentions are to be focused as I move, aware of how I react in each situation and present as I speak and interact with family, friends and new people I meet along my way.  I've put a lot of thought and heart into my calender of running and exploring our beautiful world and sharing this passion with others. I'm so blessed to do what I do everyday. I'm grateful for these opportunities to travel the world and also just spend some time in our new home. I plan on some amazing training days by myself trying to tap into my inner strength and exploring my limits while running mountains. While I enjoy pushing myself physically with races and training, a huge part of my well-being and joy of life comes from being still and continuing a daily practice of meditation to maintain balance and an overall curiosity of life. The deeper I go within, the more I learn about myself and how my running and meditation bring my life joy, balance and contentment. I'm really looking forward to sharing my experiences and thoughts with friends at our Run Mindful Retreats, which will run this June 5-7 and August 13-17. These will really be the highlight of my summer and I'll be putting in just as much focus and love into our retreats as I'll put into my training and races this year.
I hope to share some miles and smiles with you along the way. May you all have a healthy and vibrant year.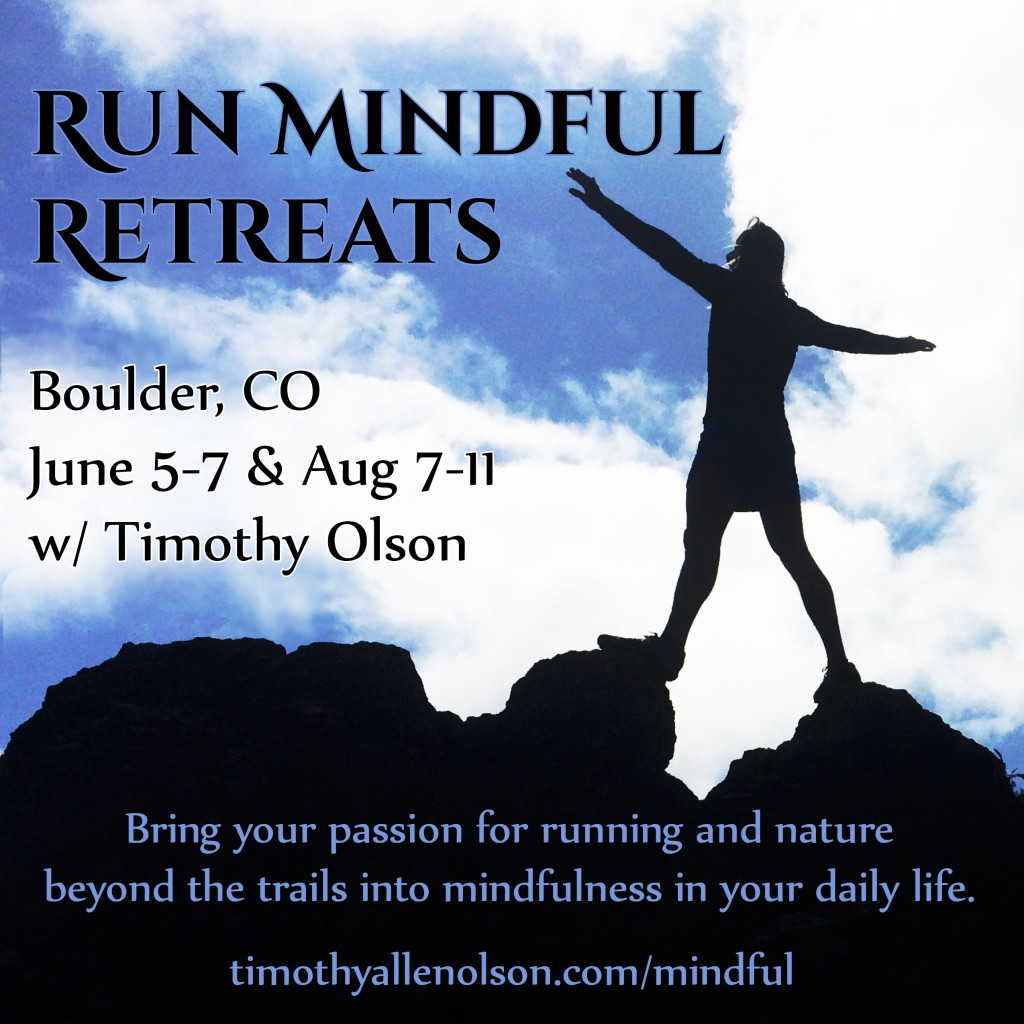 2015 Race Schedule
 A Few More Events
| | |
| --- | --- |
| | |
| Run Rugged Trail CampThis Weekend! | I'm looking forward to running in California sunshine this weekend in the beautiful forest and coastal mountains of Nisene Marks State park at Run Rugged Running Camp by North Face & Fleet Feet Sports. |
| Paleo f(x) Conference4/23/15 – 4/26/15 | I'm really stoked to be presenting at the Paleo f(x) conference this year. Check out my sessions – The Conscious Mountain Runner and Run Mindful. Come join me at the largest Paleo event in the world with cutting edge topics, fitness workshops, cooking demos and all things healthy! Register here. |

2015 Sponsors
Making my dreams a reality; I couldn't do what I'm doing without the support of all my great sponsors.
| | |
| --- | --- |
| | |
| | The North Face is my flagship sponsor, I'm so blessed to be working with such a cool company, with amazing athletes and friends who encourage and inspire me daily. I'm really excited for new gear that will be coming out this spring and summer, especially the Ultra Cardiac shoe that I've giving lots of input on and will be my go-to shoe for all my running shenanigans this year. Their new coats and shorts will be pretty sweet as well and I can't wait to try them out. |
| | The EPIC bison/bacon/cranberry bar is pretty much my favorite food, period. They are so innovative and keep bringing out more yummy flavors and ideas. They have four new bars coming out along with bites that will make you sprint, leap and bound to your nearest EPIC location. These new flavors along with their liver/beef/sea salt bar are incredible and are a staple for my long mountain adventures and recovering after intense workouts. EPIC bars give me great nutrition wherever I am and wherever I travel. |
| | A new sponsor for this year is Smartwool socks from Steamboat Springs here in beautiful Colorado! I'm so excited to be working with this local company just down the way and hope to be spending some time around their HQ's as I train for RRR100 this year.  The quality and effectiveness of keeping my feet happy and healthy over many miles is essential to my day in and out training and I'm stoked to be working with such a cool company. The wool breaths so well and adapts to whatever weather I'll be running in, may it be hot, cold, raining, snowing or sleeting, I'll be protected, comfortable and not have to worry about my feet wherever they may lead. |
|   | VFuel is my gel of choice and even though I stick mostly to a Paleo/Primal diet they are essential to running my best as I push my limits. They use quality ingredients and have tested them to the max so we have the perfect endurance gel to bring us to that finish line. The use of dextrose really helps with digestibility and also curbs nausea. The addition of MCT oil (fractionated coconut oil) is great for the long haul, as it goes straight to the liver and is a quick and easily digestible energy source. It helps the miles tick away without a bonk and helps me with brain fog in late stages of the races. |
| | Another new sponsor is Ultimate Direction Hydration. They've been my go to water bottle since my first long run. I've used them for every race I've run and love both their handhelds and also their body bottles that work perfectly in their packs. They keep coming out with new gear and ideas allowing me to have self supported adventures in beautiful places. I'm so stoked to be collaborating with them this year. |
| | I'm excited to be working with RAD (Real Athlete Diets) here in our new home of Boulder! They are a local company who deliver super nutritious, incredibly yummy and affordable meals right to your door here in Boulder. With a busy, hardworking and active lifestyle, there isn't always time to prepare healthy meals and they offer the perfect option for busy days. They use local, organic whole foods and I'm excited to be working with them this year. |
| | Active Patch 4U has been a huge help keeping little niggles at bay during the season. Their amazing patches help bring attention and awareness to the area, bringing more circulation to facilitate healing, so I can continue on running. When you place the patches on your body, they work similar to acupuncture (sans needles) to bring balance and alignment to your body. When you run this many miles, something is always a little injured and I had amazing results for healing with Active Patch 4U last year. |
This is going to be a great year, stay tuned for more posts coming your way.
One love,
Timothy