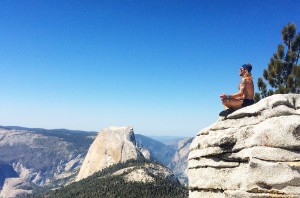 ***Visit our website for current retreat offerings by Adventure Mindful and Run Mindful.***
When I first started trail running I was going to massage school and trying desperately to memorize and understand every bone and muscle in the human body. I would take anatomy flash cards with me on long runs and tune into my body trying to comprehend how this system could flow seamlessly and move so well sometimes and other times feel like a broken down jalopy. After time I understood more about my body; through much field testing and injuries I eventually learned to run by feel. Feeling within my body and connecting my breath and energy to the vast network of energy all around me, I connected with this every step as I explored our lush-green forest through trails in my backyard of the Siskiyou mountains. Each run inspired a deeper passion to nature as I was fascinated with this connection between my mind and body and how it flowed with everything around me. I was infatuated with running through the forest and up mountains which turned into my daily routine.
As I tuned in with my body on long runs, it was always intriguing to me to see where the mind would go. I would think about everything and then other times nothing and would eventually tap into this zen state of no mind, flowing up n down, in tune within, feeling peaceful yet wild and absolutely free. This is one of the main reasons I run and over the years I've learned to tap into this more and more whether I'm running, hiking by myself, with my wife, son or with new and old friends.
Sometimes I would run and think, which can be a great way to work out worries, work or other life stresses; other times I would run with a quiet mind feeling the stillness within, even while running at a decent clip. Other times I'd listen to music, on occasion even listen to an audio book. One day when I went for a really long run up to Mt Ashland, I listened to a book called The Power of Now by Eckhart Tolle. His words spoke deeply to me, opening my mind by pointing out ideas my inner self already knew. The ideas resonated within me, bringing awareness to each moment and living fully there. From that moment on, I tried to run with a greater intention, living consciously and fully immersed in the "now". Living more mindfully took patience and is a lesson I'll always be learning. I would go from moments of complete zen, to moments of frustration with my mind fixated on thoughts or feelings that did not have much purpose and would repeat over and over. I would judge myself and become frustrated. How could one moment I be the sweetest man alive and the next be frustrated and angry at the random dog that seamed to go kamikaze at my legs? Over time and many setbacks, I've learned to just let things flow, focus on the present moment and let thoughts and emotions arise, just being aware of them, non judgmental but simply consciously curious.
This all leads to how I run now and my intentions for 2015. Our minds and emotions take us on a roller-coaster daily and through this ride I'm continually remembering to just observe and be the awareness, and not define who I am through the emotions that can arise. It is okay that sometimes I'm not conscious or present, and I'll accept every moment, as it may be, and show myself kindness, compassion and patience. I've learned to just be me, continually growing, trying to be the best person I can be. Focusing on my breath, knowing life is beautiful as is and feeling my body's aliveness as I move smiling at the present moment.  This mindfulness practice has helped my daily life and running tremendously and I would love to share some of my thoughts and intentions with you at our Run Mindful Retreats this summer.
As a long distance runner or hiker who spends all day in nature, pushing your personal limits and feeling that connection to the earth and everything in it, you are already an experienced, mindful runner. You have already experienced the awe of a sunrise or sunset, the flow of a run or hike that made every worry fade away, the overwhelming power of emotions when finishing your longest or hardest distance and those times you just want to smile and wish the whole world to have a wonderful day. We all have these blissful moments and I want to help you take that peace and serenity from the trails and mold that feeling into each moment of your daily life. We want to bring your running mindfulness beyond the trails, into an intentional, conscious part of mindfulness in your daily life.
The Run Mindful Retreats will consists of beautiful runs in Boulder, Colorado and other places we love with an emphasis on healthy, delicious whole food, and workshops on mindfulness for on the trail and off.
Run Mindful Retreats will bring together people who love nature and running/hiking. The primary topic is mindfulness, being taught through a shared love of trails. We will not focus on how to run or topics like running form, performance nutrition, racing, increasing speed; those talks will happen organically but the emphasis will be on running/hiking in the present moment and bringing that serenity from the trails to everyday life.
We will be doing epic long runs/hikes and an introductory exploration of mindfulness and include formats such as presentations, hands-on workshops, informal Q&As, personal self-reflection and guided meditation. Examples of topics include:
Accepting Pain and Transmuting it into Presence
Connection to Nature
Mindful Eating
Intro to Meditation
Running in the Now
Poor Trail Etiquette and how to transform it into Inner Peace
It would be an honor to share some of these thoughts and ideas with you at our Run Mindful Retreats. Sharing memories together and growing as people in a society where we need more love, less judgment and more smiles and laughter. We are the medicine this world needs, so let's come together and share our passions, freeing ourselves and embarking on a lifestyle of mindful happiness.